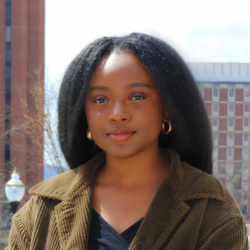 By Konah Brownell, RFC Intern
I'm thrilled to be back for a second summer with the Rosenberg Fund for Children (RFC). If you caught my previous blog from last summer when I began my first internship with the RFC, you already know that I'm a former RFC grant recipient, and this time around, I've taken on a new role within the organization. This summer, I've been diving into the dynamic world of social media, crafting compelling posts and selecting thought-provoking articles to be shared across various platforms. This role has given me a unique window into the RFC's heart and soul, enabling me to grasp their core values on a whole new level.
As part of the social media team, my days have been a whirlwind of sifting through articles, drafting concise yet impactful posts, and ensuring that the RFC's voice shines through every message we share. It's been a learning curve, to say the least. I've had to master the art of identifying which articles resonate most with the RFC's mission and values, all while developing the knack for succinct and powerful writing.
One significant topic that I've delved into more deeply this summer is the Rosenberg Case. Learning about the story of Robert Meeropol, the Rosenbergs' younger son and founder of the RFC, and his mission to support the children of persecuted activists has been incredibly eye-opening. The RFC's commitment to standing with the families of those who have dedicated their lives to social justice movements truly resonates with me as a child of a once-persecuted activist myself.
Robert Meeropol's journey, his founding of the RFC, and his relentless pursuit of helping children affected by their parents' activism mirror my own experiences in many ways. As someone who arrived in the United States as a refugee just six years ago, I know firsthand the challenges of starting anew in a foreign land. I vividly recall the bitter cold of that winter night, arriving in Boston with nothing but a hoodie to shield me from the cold. It was then that I witnessed the kindness of strangers and my community, who provided us with donated clothes and a helping hand.
This journey led me to understand the power of community support, just as the RFC does for countless individuals. Despite the setbacks I've faced, I'm determined not to let my narrative be shaped solely by challenges. Instead, I've channeled my energy into making a difference. Through previous initiatives I've undertaken, like the SBS RISE program through my alma mater UMass Amherst, I've been able to organize a closet that offers professional attire to students who need it to access job opportunities. This experience reinforced the idea that small actions, when combined with a collective drive, can lead to profound change.
My close involvement with the RFC this summer has given me a deeper connection to their mission and vision. It's inspired me to further contribute to the cause of supporting the educational and emotional needs of youth activists and the children of progressive activists. I resonate with Robert Meeropol's desire to pay forward the kindness he received as a child from strangers. Just as the RFC supported me, I have been excited to lend my voice, my experiences, and my passion for social justice to amplify the RFC's work and make a meaningful impact.
Stay tuned for more updates as I continue this transformative journey with the RFC. Together, let's create a world where every child's potential is nurtured and empowered, regardless of the challenges they face.
Until next time,
Konah Brownell