Robert Meeropol's Biography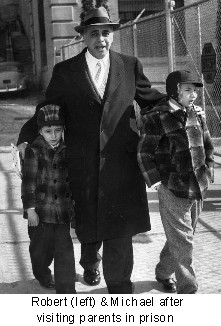 Robert Meeropol is the younger son of Ethel and Julius Rosenberg.  In 1953, when he was six years old, the United States Government executed his parents for "conspiring to steal the secret of the atomic bomb."
For over 40 years he has been a progressive activist, author and public speaker.  In the 1970's he and his brother, Michael, successfully sued the FBI and CIA to force the release of 300,000 previously secret documents about their parents.  He earned undergraduate and graduate degrees in Anthropology from the University of Michigan, graduated law school in 1985, and was admitted to the Massachusetts Bar.
In 1990, after leaving private practice, Robert founded the Rosenberg Fund for Children and served as its Executive Director until he retired from that position when his daughter took over the Fund's leadership in 2013.
The RFC is a public foundation that provides for the educational and emotional needs of children in this country whose parents have been harassed, injured, jailed, lost jobs or died in the course of their progressive activities.  The Fund also supports youth who have been targeted for their own activism.  In its more than two decades, the RFC has awarded almost $6 million in grants to benefit thousands of children and youth in this country.
Robert's memoir, AN EXECUTION IN THE FAMILY, was published by St. Martin's Press on the 50th anniversary of his parents' executions.  The book details his odyssey from Rosenberg son to political activist and founder of the Rosenberg Fund for Children.
Robert remains on the RFC's Board of Directors and is concentrating on a new writing project about climate change and politics. His blog, Still Out on a Limb, is at www.robertmeeropol.com/blog.
(updated 04/16)