Luisa (a pseudonym) has been receiving Rosenberg Fund for Children (RFC) support since she was 15 years old. She's now a student at the University of Puerto Rico (UPR), the largest university in the Caribbean and the premier Spanish-speaking institution of higher learning under the control of the United States.
Recently she's bee
n in touch with our staff and a Board Member because the computer we purchased for her when she entered college three years ago required repair. When our Board Member called her last week to get details, he heard screaming in the background when Luisa answered. Luisa said she couldn't talk because she was running from pepper spray and police with night sticks. (She got away….)
Since December hundreds of UPR students have been passively occupying their campus to protest massive tuition increases that have made it impossible for almost one third of the undergraduates (5000 out of 16,000) to re-enroll in classes this semester.
The students have not been destructive, even organizing brigades to keep the campus clean. But the government decided to attack them. The parent of another RFC beneficiary wrote on January 27th: "Levels of violence used against Puerto Rican non-violent striking students have risen exponentially. I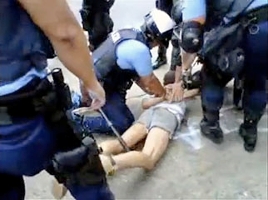 strongly urge you to open the photos and videos of yesterday's actions, brought to you by the incredible press people of Puerto Rico, who were also subject to direct police threats … [and] were physically attacked, just as the students were."
Police attacks on the students and journalists echo those that took place in Cairo, except none of the national television networks in the United States chose to broadcast the photos and videos of Puerto Rico that were readily available to them. Repression in Cairo was headline news, but similar attacks on non-violent students in our Puerto Rican colony were swept under the rug. Videos from UPR show police firing rubber bullets, tear gas, and pepper spray, as well as applying pressure point holds to the non-resisting students' necks to cause intense pain. Women's groups joined the protests after videos were released of police groping a female student's breasts.
Meanwhile, the conservative Republican Governor Luis Fortuño of Puerto Rico was on a Heritage Foundation-sponsored trip to California. He became a most-favored Latino leader in the Republican Party after he laid off 20,000 public sector employees and began systematically dismantling UPR, which just happens to be a center of liberal and left-wing activity.
The student strike continued into this month despite the police violence. On February 7th police armed to the teeth with shotguns, rifles, and submachine guns were forced to retreat when the students were reinforced by union members. To protect the students, the workers formed a human chain that even the masked SWAT team could not break.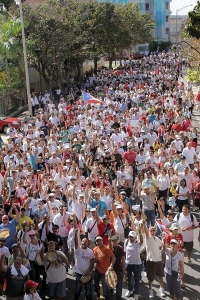 Last week I learned that the University's faculty voted to join the strike. This morning I heard that the President of the University resigned a few days ago. This story is far from finished.
Our federal government's and national media's willful blindness to what is happening within what is technically United States territory, while focusing its attention on Egypt, is monumental hypocrisy. These students are struggling to save their university. They are risking their bodies, and even their lives, so they can attend school! It is past time for all progressives to speak up in support of these courageous young people.
For independent media coverage of the events at UPR including video, photos and reportage, visit the PR Indymedia website at http://pr.indymedia.org, and also http://huelgaupr.vodspot.tv.  (Thanks to PR Indymedia for photos that accompany this article.)
Search #luchaUPR, #huelgaupr, or follow @luchaupr on Twitter.
To learn more about how the Rosenberg Fund for Children helps youth in the U.S. (including Puerto Rico) who have been targeted because of their progressive activism, and also children whose parents are targeted progressive activists, see the RFC Mission and RFC Guidelines.
--------------------------
To receive a notification whenever there is a new post to Out on a Limb Together, subscribe now.
Comments
Democracy Now! actually has been giving this situation quite a lot of coverage, but it's always good to chime in and let media outlets know what stories you care about and want them to cover (or in this case, keep covering.)  (To find it, visit www.democracynow.org and search for "university of puerto rico strike.)
Robert's comments in his blog about U.S. media referred primarily to major/mainstream media, and the glaring difference in their coverage (or lack thereof) of popular protest abroad vs. at home.
The UPR strike has nothing to do with Puerto Rican political status, although some pro-independence groups have been deeply involved in the issue. The strike started with protesting against a $800-quota imposed by a very inefficient Administration; followed by the lack of democracy and transparency, and excess of party politics, in administrative matters; and recently, the immediate claim is to put an end to the Police abuses and presence in the campuses.
By the way,"the majority of the people" are not in favor of statehood, but of "statu quo" -Puerto Rico as a colonial territory of the U.S.-
It is the duty of socialists in oppressor countries like the United States to denounce colonialism. This is a matter of principle, and not even subject to shifts in public opinion in the oppressed colony (shifts that themselves are determined by the condition of colonial domination). Socialists in America must favor self-determination for the peoples in the lands the U.S. imperialists occupy, from Puerto Rico to Iraq and Afghanistan.
Sincerely,
Richard Bucci
RizzieroBucci@yahoo.com
For decades UPR has suffered the problem of lack of participation, information and better management. Another FACT is that by decades, pro independence groups, as well as religious groups- have been in the front of the struggle. SO now we are the responsible for the massive abuse and uncontrolled force used by the police and the state? Come on! Wake up and smell the coffee! A good analysis is that because we are the same small group of people that become the moral reserve of the country, who
struggles and provokes public opinion, "los revoltosos", then the state directs the repression to us. The silent majority never will change anything; it is an unconvenient and uncomfortable situation so it is better that a minuscle group takes the pain.