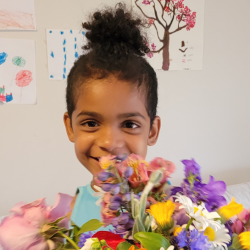 Guest blog by Cleo Rohn, RFC granting coordinator
Like any good millennial, I spend too much time on the internet. Lately, the internet has been a particularly awful place to be. And yet, this weekend, there I was again, sitting at the table with my coffee and consuming another day of news about the world falling apart all around us. But as I scrolled through videos of despair, death and fascist rhetoric, my eyes landed on a quote that has stuck with me ever since:
"All we can do is everything we can."
I recognized this quote immediately as a counterpoint to the "all we can do is…" line that most of us have thought to ourselves at one point or another when we're feeling defeated. There is an awful lot of "all we can do is…" in the world, and I understand it. From where many of us are, the horrors of the world can often feel too big, too far away. And we, by contrast, feel too small, too ineffective and too quiet for our actions to create meaningful change.
Since joining the RFC last year, I've been uplifted by the feeling of being in a community that actively and enthusiastically rejects that premise. RFC beneficiaries and RFC donors have this in common: we all know that "all we can do is…" does not have to be our way of existing. RFC beneficiary parents and young activists lead the way forward every day through direct action, advocacy, and the pursuit of justice. RFC donors support the fight for a better world while practicing real, tangible community care.
That commitment to caring for each other kept us afloat as we faced an incredibly full granting season. This fall, our granting applications once again exceeded the quantity we expected. Our prospective new families wowed us with their commitment to fighting fascism and injustice, and in the spirit of the RFC community, we did everything we could: we increased our granting budget once again and awarded over $220,000 in grants, bringing our total amount granted in 2023 to over $450,000.
This fall, we are proud to be supporting targeted young activists from the Stop Cop City movement in Atlanta, educators fired and harassed for modeling inclusion, Indigenous Hawaiian leaders at the forefront of protecting environmental rights and native sovereignty, and parents in Alabama's Black Belt battling corruption and environmental racism for the chance to give their children safe and healthy childhoods.
I won't pretend that the world is not a frightening place to be these days. And I won't pretend I'm not alarmed by the enormous increase in egregious targeting we are seeing nearly everywhere we look.
But from where I stand as an RFC staff member, I am seeing something else too: a web of incredible, interconnected people who see "all we can do is…" as a challenge to do more. That web gives me so much hope. As we head into the holiday season, I hope it can bring you some hope, too.