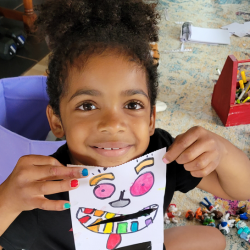 Guest blog by Cleo Rohn, RFC Granting Coordinator
At an RFC event years ago, one beneficiary made the point that in a perfect world, the RFC wouldn't exist. It's a strange concept to think about as an employee of such a special organization, but it's true: in a perfect world, there would be absolutely no need for us. Egregious cases of targeting wouldn't occur. Children of activists would be able to live safe and full lives without organizations like ours, and activist families wouldn't have to live in constant states of uncertainty and fear.
I've been thinking about this a lot lately, particularly in this granting season. I want that perfect world; I'm sure we all do. And yet, this spring, I found myself faced with an influx of more applications than the RFC has ever seen. Applications from new activist parents and youth were practically pouring in, and updates from existing beneficiaries were showing me just how much need there still is for support.
In response to this flood of requests, we realized we needed to prepare accordingly: we made a large increase in our granting budget, stretching our resources to provide as much assistance as we possibly could. With the increased budget approved, we awarded a staggering 93 grants this spring alone - that's over $230,000 in grant funds in one season.
Our new grantees, many of whom are young activists, reflect the myriad of battles in our current world: gender-nonconforming youth who have had their safety and livelihood threatened for encouraging young people to be themselves; a Black teenager physically assaulted by a teacher for declining to say the pledge of allegiance at school; students fighting back against the erasure of true history and the profound inequity in their state's education system.
Of course, we are also supporting children of incredible activist parents. Our grants will help fund trauma therapy for the 17-year-old son of a police brutality victim and an activist fighting to end police shootings once and for all; they will ensure a quality education and extracurricular opportunities for an 11-year-old boy in the south whose mother risked her business and her personal safety to help protect Black women's rights to reproductive autonomy; and they will help the 21, 17, and 13 year-old children of a prominent Muslim anti-war activist pursue their passions in STEM, woodworking and sports after their family's world was turned upside down by an FBI witch hunt.
In a perfect world, the RFC wouldn't exist. Maybe, someday, we will see that world become real. But in the meantime, in this world, we remain steadfast in our commitment to being a pillar of support for the children of targeted activists. We couldn't do it without you. Thank you for helping us build the best world we can for the children of resistance.
Comments
Such heartwarming work, indeed!
Add new comment