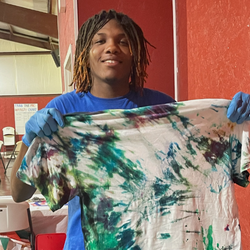 By LaQuenna Lewis (Founder, Love Is What Love Does) and Tori Montemurro (RFC's Granting Coordinator)
A core part of the RFC's mission is to combat the isolation that makes our grantees vulnerable and deepens the impact of the targeting they experience. And so we are thrilled that three RFC beneficiary families in Alabama came together to convene the first ever "Pass the Mic" summer camp, led by Love Is What Love Does, a non-profit organization founded by LaQuenna Lewis. In addition to the activist families who came together to organize the event, RFC beneficiaries participated in the camp and served as peer-leaders.
The camp welcomed over 30 campers, ages 12 to 19, for a three week program that allowed campers to build connections and friendships with individuals from other counties. Programming included traditional camp activities like tie-dying, bracelet making, archery, tug of war and more. Many individuals supported the camp by providing rides to campers who lived farther away so they could attend, donating food and much more.
In addition to recreational activities, "Pass the Mic" also offered opportunities for campers to learn about how to get involved in their community. The camp provided attendees with an opportunity to talk with other participants about the issues facing their community and work with each other and local leaders to come up with creative solutions.
According to LaQuenna," It was an honor to host a successful summer camp that served three disadvantaged counties in the Blackbelt region of Alabama. Camp impacted the lives of many and sparked creativity throughout communities. I am thankful for the opportunity to be of service. SEE YOU NEXT YEAR! For Pass The Mic Summer Camp 2023!"
We were thrilled to learn about the incredible camp these families organized, and proud to support activists and their families who continue working in their communities to encourage the next generation to get involved in various progressive movements. To learn more about Love Is What Love Does and "Pass the Mic" camp visit www.loveis-lovedoes.org.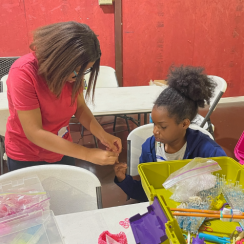 Comments
What a great experience this camp must have been for its participants!
As the daughter of communists who were active and targeted, Camp Woodland and Higley Hill were the places I got community and lifelong friendships.
I am thrilled to hear about new camps being created and would love to talk to the organizers if they want to know more about our history and experience.
Deborah Gerson
Do you know any of the Woolis's?
So good to see the benefits of "thinking clearly" and what can be done for our forgotten kids!
Please NO MORE NEGLECT on children who have experienced tough events in their lives!
Add new comment