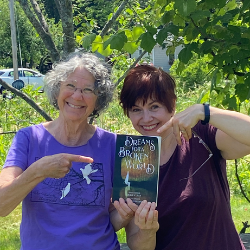 Guest blog by Ellen Meeropol (author and RFC Advisory Board member)
The project began in January 2021. We'd been locked down for almost a year. My fourth novel had been launched into a pandemic-scourged virtual-only environment. Racial injustice and climate catastrophe were vying for my activist attention. I was having a hard time writing new fiction or imagining anything getting better. I certainly wasn't considering starting an entirely new kind of literary project.
Then came an out-of-the-blue email from Julie Day, an author I knew slightly through writing networks. Julie had previously edited Weird Dream Society: An Anthology of the Possible & Unsubstantiated in support of RAICES, a nonprofit agency providing legal services to migrants. She wrote that she wanted to work on another "Dreams" anthology, this one to benefit the RFC.
Julie writes speculative "genre-bending" fiction. I write "literary" fiction with themes of political activism and conflict. So our collaboration, we decided, would include stories from both worlds, stories that approach our global challenges from many different storytelling traditions. Stories that range from dark to playful, from speculative to activist, from dystopic to historical. All would offer imaginative, provocative, and thoughtful perspectives on a more just world.
Why collect these stories? Because our world is broken.
Stories can inspire us and help us imagine other futures. When we read, or write, about individuals and communities fighting for justice, we grow to believe in these possibilities. Maybe we even join the characters, breaking through barriers and building new connections.
Dreams and stories can change the world. Not by themselves, but as RFC Advisory Board member and poet Martín Espada wrote, "Any oppressive social condition, before it can be changed, must be named and condemned in words that persuade by stirring the emotions, awakening the senses."
Naming. Condemning. Stirring. Awakening. That's what stories can do. We invite you to join us in a literary exploration of freedom fighters and glass castles, war and fire, trickster gods and luchadores, a mother's ashes and a suburban terrorist. Twenty-four stories of a broken world threaded together with hope.
100% of the proceeds from Dreams for a Broken World will benefit the Rosenberg Fund for Children. Pre-order your copy at https://dreamsforabrokenworld.com/dreamsfor/preorder-now/
Comments
Yes, Doris. We're planning a virtual launch in November, and hopefully a smaller local in-person reading, if that feels safe.
Add new comment