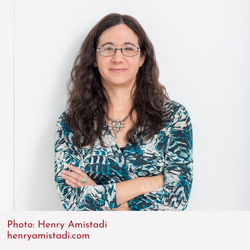 When I started working at the RFC more than a dozen years ago, in July of 2007, my first role was the granting coordinator. I spent six years in that job, which focuses on working with beneficiary families: helping them apply for grants and answering their questions about the process, sending payment to providers of the services we fund, doing outreach to potential new applicants and presenting applications to the Board for their review. I enjoyed the work and my father – RFC Founder and Former Executive Director Robert Meeropol – and I both thought it would be critical hands-on training for me to take over for him as Executive Director, which I did in the fall of 2013.
The core work of the RFC is supporting the children of targeted activists and young activists who faced harassment for their own organizing efforts, so spending time getting to really know the families who make up our grantee community was a critical part of understanding what the RFC is and what we do. As a bonus, I met so many amazing people and made strong, meaningful connections.
I was reminded of how much I enjoyed those connections this spring when I provided some coverage of the granting work. I stepped back into this role while our current granting coordinator, Tori, traveled to Honduras to reconnect with friends and colleagues she had to leave when the program she was working with abruptly shut down in the spring of 2020 due to the start of the COVID-19 crisis.
The majority of my granting work this spring involved following up with a few applicants who were either submitting new applications or faced unique challenges in requesting renewed support. At the RFC we often talk about how we try to treat our beneficiary families as individuals, understanding that no one form or process will work for everyone. While we put time and energy into crafting applications and other materials for the families we fund which are as user friendly as possible while providing the information we need to make funding decisions and process grants, we also are small enough to be able to make exceptions as needed and try to meet people where they are.
This spring, that meant that when I spoke with a potential applicant about applying for funding for her grandchildren based on her own and her son (the boys' father's) activism and targeting and she confessed that she just couldn't bring herself to document her son's experience on the application, I was able to schedule a time for us to talk on the phone so I could talk through the application with her. It was a simultaneously painful and inspiring experience; I felt horrible asking questions which had her reliving the pain her son and their entire family experienced when he was targeted by police and others in their small town, but I also heard how hopeful she was that grant support could make a real difference in the lives of her grandchildren and perhaps provide some healing for the entire family.
I experienced similar emotions corresponding via phone and email with an activist father whose children have received support for a number of years. The targeting he experienced, which included being severely beaten by police, left him partially paralyzed and unable to complete an application by himself.
Taking parts of the application over the phone and hearing the appalling treatment the family and especially their children were dealing with was really hard; I found myself at a loss for words several times during our conversation. But as with the new applicant, I was struck by how committed this dad was to continuing to fight for his children; his insistence on doing so in collaboration with other individuals and organizations working to change the system that was failing and traumatizing his family; and his hope that grant funding for the children's therapy and education could make a real difference for the entire family.
I'm grateful for the time I was able to spend this spring reconnecting with some of the strong, resilient, caring people who are part of the RFC beneficiary community. I'm glad that I spent my first years at the RFC getting to know so many of them and learn from their experiences. And I'm hopeful that I'll continue to find ways to stay connected to the people at the center of our work. They're such a big part of why I continue to feel like I have a fabulous job.