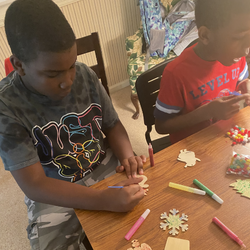 This fall the Rosenberg Fund for Children awarded 78 grants totaling over $200,000. Eleven new families received funding, joining 64 families who received renewal grants. In addition, the RFC Board awarded one group grant, another grant to provide grocery gift cards for current beneficiary families, and a grant to allow the RFC to host virtual programming for beneficiaries and their families this spring. Altogether, this brings the total granted in our 30+ year history to over $8 million!
New families include:
Four sons whose mom faced harassment from community members after she participated in a nationally aired interview against her state's abortion restrictions. Community members also began to block her from hosting events and accessing funding for her nonprofit organization. The backlash from her interview also extended to her children who were bullied at school and denied educational resources. Due to their mistreatment in the school, the activist mother was forced to relocate. RFC grants will provide computers and fund recreational activities for the boys.
Two siblings, ages eight and 11, whose father exposed the FBI's racist targeting of Muslim communities. As a result, their dad spent years in prison away from his children and lost his savings. Grants will provide educational programs and recreational activities for the children while the family rebuilds their lives.
A 24-year-old racial justice organizer who was harassed and followed by police on numerous occasions after leaving peaceful protests. In addition to this harassment, he was hit by a government official's car while at a demonstration. He hopes to use his Targeted Activist Youth Development grant to assist with the costs of applying to law school.
Renewal grants include:
A Carry-It Forward award for the 19-year-old daughter whose father is an animal rights activist who spent time in prison for destroying traps set for mountain lions. She began receiving grants from the RFC when she was just four years old and now she is starting her second semester of college!
Grants for three siblings whose mother is an immigrants' rights activist. The siblings are currently being homeschooled due to their mother's targeting, but they use their grants to make the most of it! See photos below: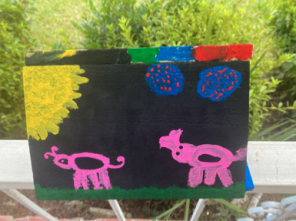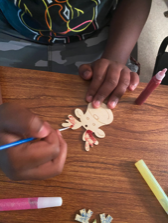 Grocery Gift Cards:
The RFC has tried to adapt to the changing needs of our community during the current health and economic crisis. This fall, the RFC once again offered $200 gift cards to beneficiaries to purchase groceries for the families.
Many thanks to our community for allowing us to reach this milestone and provide vital support to the children of targeted activists.
Comments
Thank you for this amazing newsletter that shares the family stories and how you are using the donations and savings to fight more justice and provide creatively and strongly for the families and children for food, shelter and education and community work.
Add new comment