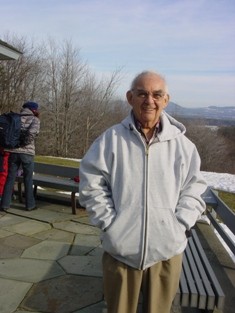 Guest Blog by RFC Founder Robert Meeropol
Earlier this month we lost a major figure in the Rosenberg Case struggle when David Alman died at the age of 102. In 1951, he and his wife, Emily Alman, were cofounders of the National Committee to Secure Justice in the Rosenberg Case. Dave wrote decades later that the few who formed the original core of the Committee weren't the best people to do it, but there was no one else.
Emily died in 2004, at age 86, after a successful career as a sociologist and lawyer. Dave was a novelist, businessman, farmer and social activist. In 2010 Dave finished the book the two of them had been working on entitled, "Exoneration: The Rosenberg-Sobell Case in the 21st Century." It is the inside story of those on the front lines battling to save my parents' lives at the height of the McCarthy era hysteria.
Dave never gave up fighting for the truth about my parents' case. He was there in the 1950's, and twenty years later when we founded the National Committee to Reopen the Rosenberg Case. This century, we worked together on the effort that led to the Exonerate Ethel Campaign in 2016. David was fond of saying, "I wish I still had the energy I had when I was young... only 80." He was boundlessly optimistic. He told me at age 100, in the midst of the Trump darkness, that he still expected to see my mother exonerated. I regret that he didn't live to get his wish, but his death has fortified my desire to re-initiate that effort.
I was too young to remember the first time I met Dave and Emily, but by the time I was five years old they were two of my favorite people. They were some of my brother's and my principal protectors during those nightmarish times between our parents' arrestparents arrest in 1950 and our adoption by Abel and Anne Meeropol in 1954. And it didn't end then. I have many meaningful memories of visiting their farm in East Brunswick, NJ, as a teenager and their farm near Saratoga Springs, NY, decades later.
It is hard for me to express the depth of emotion Dave's passing has sparked. He was one of the most important figures of my childhood, which as I have aged has come to feel like ancient history. Fortunately, Dave and Emily left us with Exoneration. We can recapture some of that history and a sense of the remarkable people Dave and Emily were by reading it. And we can honor his memory by working to finally exonerate my mother.
Photo: From The David and Emily Alman Collection of The Julius and Ethel Rosenberg Archive at the Howard Gotlieb Archival Research Center
Comments
Thank you for sharing this with us Robert. Lives well lived, on all sides! Living with honor leads to truth, which leads to justice, which can finally bring us peace.
Where can I get a copy of their book?
So sad! Probably the last person who knew your parents and was close to you during that terrible ordeal. Are you stll in touch with their daughters Michelle and Jenny?
I was fascinated with what they wrote in Exoneration and Final Verdict.
I so much wish I could have met this wonderful person. Nevermore...
Robbie dear,
102! some of those old activists were lucky to live another day to keep up the good fight. Alas, not all of them. As I watch the news these days...I wonder who will keep up the fight when we, the children, who knew first -hand what it was like in real-time are gone? Our children? Their children? One can only hope there's a decent world for them to keep fighting for.
If I believed in heaven, which as you knew my mother, I've never believed in but I hope if there is someplace these good souls go, David is up there with Maddy, Ossie, your parents and the rest of them...and if there is that place, you know that my mother is bossing them all around and putting on a terrific benefit.
With fondness always,
Lisa
My father, Leonard Tushnet, was the chair of the New Jersey Committee and my mother was an active partner in the work. When my father died, we gave all the files of the NJ Committee to Emily at Rutgers. I have fond memories of the Altmans.
I would urge everyone to read Exoneration - fascinating book
My condolences on your special loss of David Alman. He and Emily were courageous people and I'm glad they were in your life for you. I'm glad they and your family were and are in our world, and in our country.
A beautiful tribute to a wonderful human being. When I was researching the National Committee to Secure Justice in the Rosenberg Case a few years back, I would regularly email him with a series of questions in the evening and by the next morning, a 3-4 page response – detailed, lucid and highly illuminating.
Robert, Thanx for this tribute to David Alman
He was "never give up" fighter....for truth & justice!
All the best to you!
Add new comment