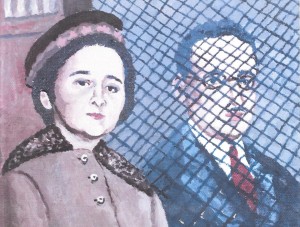 Day in and day out, we receive touching, feisty and amusing notes from our supporters. They arrive via email and surface mail; printed, typed and handwritten; accompanying monetary or other donations and on their own.
Sometimes they're included with contributions made in honor of loved ones or marking special occasions. We've opened letters from young people who've just been bar or bat mitzvahed, and teachers whose students are learning about the McCarthy era. Many are brief, such as the note with a modest donation that read, "Sorry it's small but at 88, so am I!"
We truly appreciate all the messages we get. But some really stand out, such as the two shared here in slightly edited form:
"Enclosed is a check bequeathed to your organization by C.L., who was one of the most interesting people I have ever met. She owned her own chainsaw, volunteered for a local land trust, took up rowing in her retirement, never turned down an invitation for a meal with friends, and despite her petite frame, could be relied upon to help throw hay bales come haying season. She spoke fluent Chinese, taught East Asian history, played the flute, volunteered for town boards, and saved her money meticulously.
In 2015 she taught my daughter to body surf and spent hours in the water with her. Two weeks later, C.L. was diagnosed with stage 4 cancer and spent her remaining three months in various hospitals. A few days after her diagnosis, she revealed that an updated will remained on her "to-do" list. She had me bring her a small box, which contained index cards – one for every charity to which she had donated since the 80s. Most entries were for $20 a year or less.
She looked through her stack and chose groups that emphasized social justice and conservation, and picked organizations for whom she thought a donation would make a noticeable and meaningful difference.
As I look back on our discussion that night, I cannot help but smile. I can see her clearly- in tremendous pain, facing an uncertain future, sorting through index cards on her hospital bed with professorial focus. Several months later, she remained convinced of her choices and passed away content with the thought that her savings would help make a difference – the legacy she desired most. Her donation is a reminder to all of us that we are never fully aware of our impact on others."
---------
"I am writing for and about my 96-year-old mother, Nancy Weinberg. She's a long-time donor to your wonderful fund and a committed Lefty. Several years ago, after two depressing years in a nursing home, she was casting around trying to figure out how to not solely focus on bad political news, lousy food, and other 'inmates' (as she calls herself and her fellow residents).
She has been a great artist her whole life, so I suggested that she paint some of her heroes. She started with Paul Robeson, Frida Kahlo, Edith Piaf, Pete Seeger, Mark Twain, Nelson Mandela, Kurt Vonnegut, Jr., Che Guevara, Emma Goldman, Albert Einstein. But she was just warming up.

She then painted Otto Dix, Joe Hill, Edward Snowden, Stephen Biko, Scott Nearing, Bertolt Brecht, Jaques Brel, William Gropper, Federico Garcia Lorca, Pablo Neruda, Philip and Dan Berrigan, Patrice Lumumba, Sacco and Vanzetti, Cesar Chavez, Father Pfleger (an activist Chicago priest), Malclom X, Yevgeny Yevtushenko, Zero Mostel, Woody Guthrie, Eduardo Galeano, Hugo Chavez, Bella Abzug, Chelsea Manning, The Black Panthers, Studs Terkel, I.F. Stone, Howard Zinn, Mother Jones, Ho Chi Minh, Kathe Kollwitz, Harold Washington, Muhammad Ali, and wait for it…Ethel and Julius Rosenberg [pictured above]!
I am including a color Xerox of her painting of Ethel and Julius. It was a given in my family growing up that the trial and executions were purely puffed up political show trials and a grotesque travesty. Under any circumstances, the Rosenbergs are proudly and unapologetically among her heroes.
The correspondence we receive at the RFC office is inspiring, and we appreciate it. It leads us to reflect on our supporters' compassion, generosity and often decades-long commitments to the fight for a better, more just world. Thank you for writing, and for sharing your stories with us.