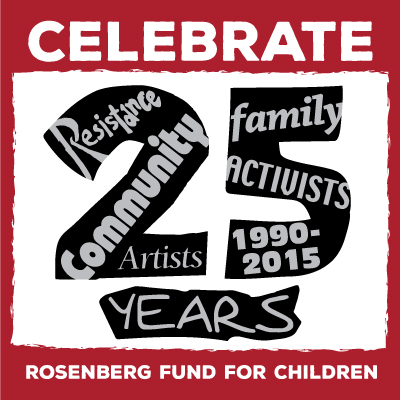 Please join us to celebrate our 25th anniversary!
Saturday, October 17, 2015
in Eastworks
116 Pleasant St., Easthampton, MA
for
A Conversation about "Artists as Activists" at 8:00 pm, with Gina Belafonte, Erin McKeown, and Ellen Meeropol, moderated by Jenn Meeropol
and
A short film featuring interviews with Angela Davis, Holly Near, The Nields, Pamela Means, Mike + Ruthy, Peter Mulvey, Public Enemy's Chuck D, and RFC founder Robert Meeropol.

followed by
A 9:30 concert by Erin McKeown, with opening by A Besere Velt (A Better World) Yiddish Chorus
Cash bar with beer from Abandoned Building Brewery and wine from Black Birch Vineyard.
$25 tickets ($15 for students and limited income) will be available at the door while they last, starting at 7:15. Doors open at 7:45. General admission.
This event is made possible in part thanks to generous sponsorship from the Puffin Foundation.
---
Meet the participants
Actress and artist Gina Belafonte co-directs Sankofa.org, the organization her father Harry founded to encourage artists to use their platforms to bring attention to social justice issues. Born and raised in New York City, Gina Belafonte has spent her life in the arenas of entertainment and activism where her professional work thrives today. As the youngest child of Julie and Harry Belafonte, whose impact in these fields is among the most influential and progressive in the world, Gina's passions come as no surprise. Gina was the lead producer on the internationally acclaimed documentary film, SING YOUR SONG, exploring the extraordinary life and legacy of Harry Belafonte that was selected as the opening film for the Sundance Film Festival in 2011.
Erin McKeown is an internationally known musician, writer, and producer. With 9  full length albums, 2 EPs, and numerous soundtracks to her credit, she has spent the last 15 years crafting a reputation as an original musical voice and compelling live performer. An active voice on social justice issues and culture, Erin was a 2011-12 fellow at Harvard's Berkman Center for Internet and Society. Recently, she's also added radio to her resume- blogging and hosting for WNYC New York Public Radio. A former board member of the Future of Music Coalition, McKeown also works closely with Revolutions Per Minute (RPM) on immigration issues. She is currently writing an original musical with Tony & Pulitzer winner Quiara Alegria Hudes for the world renowned La Jolla Playhouse. Fingers crossed for a new solo record in 2016. Meantime, read about her latest record, MANIFESTRA.
Author Ellen Meeropol has been the artistic heart of the RFC since its inception, serving on first the Board of Directors and now its Advisory Board. She wrote all of the RFC's Celebrate the Children of Resistance scripts, and is the author of two novels, ON HURRICANE ISLAND (released in 2015) and HOUSE ARREST, both published by Red Hen Press. A former nurse practitioner, a part-time bookseller, and literary late bloomer, Ellen is fascinated by characters balanced on the fault lines between political turmoil and human connection.


A Besere Velt (A Better World), who performed in the RFC's 2007 Celebrate the Children of Resistance, is proud to be a "voice" for justice.  This 92-member community chorus weaves the heartache and irrepressible idealism of Yiddish folk music into a vision of justice and humanity for the 21st century. From haunting melodies to workers' anthems, the songs come alive with multi-layered harmonies.
 
---
Coming from out of town? Here's a list of local accomodations.
---
Thanks to Eastworks and Down Right Productions for event support!