The RFC remembers Pete Seeger
Pete Seeger was a beloved member of our community. He performed for us many times, was a generous founding member (with his wife Toshi) of the Advisory Board of the Rosenberg Fund for Children, and prior to that, was a courageous supporter of Ethel and Julius Rosenberg.
We've compiled a collection of Pete Seeger photos, stories, recordings, and other memorabilia shared by our community, to mark the 100th anniversary of his birth, May 3rd, 2019.
See the complete collection here or view and share our Facebook photo album or Instagram collection (#PeteSeeger100).
Want to add your memories? Send them to info@rfc.org.
---
Watch, listen, celebrate
Celebrate with the RFC on May 3rd from 7-10 pm, at a birthday party and jam session to honor Pete. 116 Pleasant St., Suite 348, Easthampton, MA. Details at rfc.org/pete100.
Find a celebration near you: Check out this list of centennial events across the country and internationally, to find another commemoration near you.
View the RFC-curated YouTube playlist of videos of Pete and others performing his songs, and other related content.
Listen from 9 am - midnight, Eastern Time, to WBAI (99.5 on the dial in NYC, and streaming at wbai.org) as they pay tribute to Pete with archival programs of the folk music icon, talking and performing, ranging from the 1950's to 2013. His music, his social, environmental and political activism, his influences on youth, other musicians, etc., all of this will be discussed by Pete and others, including Judy Collins, Nora Guthrie, David Amram etc. The programming will remain available on the WBAI website for those unable to listen in real time.
Listen anytime to UpFront Soul's April 26, 2019 radio show celebrating Pete's centennial with funk, soul, jazz, gospel, & hip-hop versions of the songs Pete wrote and helped to spread all over the world. It's Pete Seeger like you've never heard him before!
---
Limited edition fine art photo offered for sale
to benefit the Rosenberg Fund for Children
In celebration of the centennial of Pete Seeger's birth, fine art photographer Robert Floyd has produced a limited edition print of his candid 1979 photo of Pete at a protest at the Shoreham Nuclear Plant on Long Island. Sales will benefit the RFC.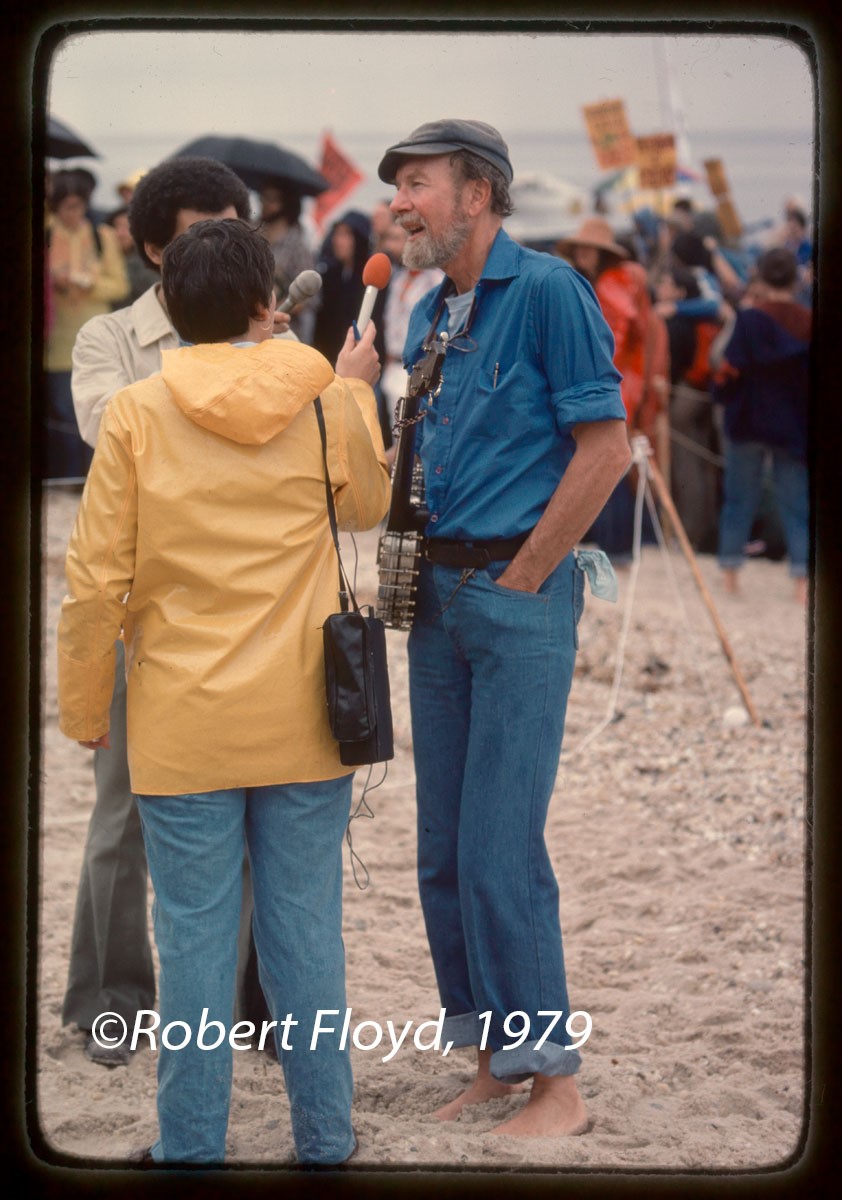 ARTIST STATEMENT
"I photographed the Shoreham Nuclear Plant protest on Long Island with a press pass following the Three Mile Island accident. On June 3, 1979, 15,000 protesters gathered in the largest demonstration in Long Island history. 600 protesters were arrested after they scaled the plant's fences. Standing separate from the activists on the beach was Pete Seeger, shoeless in the sand, with banjo at the ready. He performed for the masses at water's edge." – Robert Floyd
ABOUT THE ARTIST
Robert Floyd, having spent many lifetimes in Manhattan where he successfully completed over 2,250 assignments in the 90's alone while based in Manhattan, moved to Southampton, MA, some 20 years ago. He owns and operates The Robert Floyd Photo Gallery and Learning Center there, now in its 18th year. He balances his award winning artwork with photo workshops for Basic, Intermediate, and Advanced photographers at The Floyd Gallery, and from Manhattan to Newfoundland. Robert serves as Southampton Town Moderator and is Board Director of Easthampton Media and the Southampton Historical Society.
Edition is limited to nine, 13" x 19" prints
One print is offered matted and framed, with museum glass, to approximately 19" x 25": $450 (plus MA sales tax of 0.0625%), 75% of which will be contributed to the RFC by the artist (with the generous donation of framing by Big Red Frame of Easthampton, MA and photo processing and printing by Pivot Media of Florence, MA).
Eight prints are offered unframed: $250 each (plus MA sales tax of 0.0625%), 50% of which will be contributed to the RFC by the artist (with the generous donation of photo processing and printing by Pivot Media of Florence, MA).
To purchase a print, or for questions, contact The Robert Floyd Photo Gallery: (413) 529-2635 or floyd@floydgallery.com.