Meeropols Make Ethel Rosenberg FOIA Request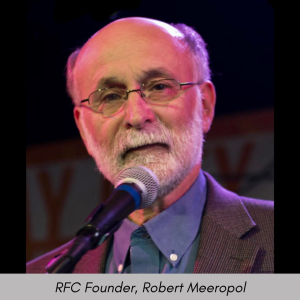 Special Guest Executive Director's Report by RFC Founder Robert Meeropol
This June will mark the 70th anniversary of my grandparents' executions. As the RFC plans a virtual commemoration (see cover story in this issue), we are also exploring how to finally correct the historical record and exonerate Ethel. My father, RFC Founder Robert Meeropol, offers this special guest Executive Director's Report to share recent developments on this effort. ­— Jenn Meeropol
In 2016 my brother Michael and I, in conjunction with the RFC, launched the Exonerate Ethel campaign. We asked then-President Obama to issue a proclamation declaring that our mother's conviction and execution were wrongful because all of the evidence presented against her was oral testimony given by proven perjurers David and Ruth Greenglass. We said we'd consider Ethel exonerated if President Obama took this action.
While we were disappointed that Obama left office without ever acknowledging our request, we were pleased that our efforts steadily shifted the mainstream narrative around my parents' case, and that 60,000 signatures were gathered from RFC supporters and others calling for our mother's exoneration. We promised that we would neither give up nor waste our time asking President Trump.
We were poised to restart the campaign after President Biden took office, but between COVID-19 surges and the aftermath of the January 6th storming of the Capitol, we felt we had to wait. Although we did not relaunch the campaign in 2021, we gained the support of our local Congressman, Jim McGovern, who was then Chair of the House's Rules Committee. By early 2022, with help from McGovern's office, we were ready to relaunch the campaign and ask President Biden to issue a proclamation exonerating Ethel.
Then, Russia invaded Ukraine. We quickly realized that no matter how different today's Russia is from the Soviet Union Ethel supposedly spied for, Russia again was the enemy, so it was not politically feasible to ask Biden to issue a proclamation exonerating Ethel while the war raged.
Despite our frustration with these delays, we didn't twiddle our thumbs. Last July, my brother and I filed an administrative Freedom of Information Act (FOIA) request for files held by the National Security Agency (NSA, available at www.rfc.org/2022-foia-request).
My brother and I won our initial FOIA action in 1985, and received over 300,000 previously secret pages, but that request did not include the NSA. When the NSA released the Venona transcripts in 1995 we learned that the KGB gave all its agents code names, but Ethel had none. That release also included a memo written by the NSA's chief decryptor in which he concluded that the meaning of the KGB's statement that Ethel "did not work" was that she did not engage in espionage.
We thought at the time that the NSA had released all the records relating to our parents, but recently we realized that was probably not the case. Now we are asking the NSA for all its files related to Ethel, and the use of code names by the KGB in the hope of obtaining more evidence to support the Exonerate Ethel campaign.
We were surprised to learn that there are between 350,000 and 500,000 pages of material in more than 200 classified boxes at the National Archive which could be relevant to our request. They have also revealed that they have other files that they presume are still classed in their field offices. They have given no indication of their willingness to declassify any documents.
I am sure RFC readers will agree that it is absurd that any records related to my parents' case from the 1940's remain classified. We pledge to pursue these papers through negotiation and even legal action, and to re-launch the Exonerate Ethel campaign when the time is right.
We look forward to having the RFC community join us in exonerating Ethel. Please stay tuned for further developments.