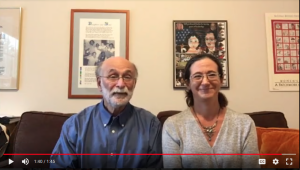 Exonerate Campaign
We're still in the early stages of exploring a possible relaunch of the Exonerate Ethel campaign, but things are percolating! The best way to keep up to date with news and announcements is to join our email list, and you can also follow us (and any breaking news) on our social media pages (Facebook, Instagram and Twitter). 
Virtual Mini Gatherings
Although the COVID pandemic and ensuing health concerns has made hosting an in-person Gathering for our beneficiaries impossible these last couple years, we are looking forward to finding new and creative ways to connect with our beneficiaries virtually in the coming months. We're working on planning "mini Gatherings" to bring beneficiaries together virtually for shorter programs or workshops. If you're interested in brainstorming ideas with us for 2022, email Tori Montemurro at granting@rfc.org.
Zoom House Parties
We're excited to resume donor house parties to support the RFC - but with a virtual twist. We're currently brainstorming options for hosting parties on Zoom and helping dedicated supporters host their own parties as a fun and social(ly distanced) way to fundraise for the children of targeted activists this year! If you're interested in exploring these possibilities with us, email Rachel Harb at info@rfc.org.
Other Events
We are expecting to add new events to the RFC calendar throughout the year and will announce them on the News & Events section of our website, through our emails (join our mailing list here) and on our social media pages. We hope you'll follow along and join us for these upcoming opportunities.