At the Intersection of Healing & Justice
Spotlight on RFC Provider, Heartland Alliance Marjorie Kovler Center
Throughout our 30+ year history, the Rosenberg Fund for Children has been proud to provide group grants to an organization that works at the intersection of healing and justice, the Heartland Alliance Marjorie Kovler Center. The Kovler Center opened its doors in 1987 as a community-based treatment program providing holistic, trauma-informed healing services for survivors of politically sanctioned torture. The survivors, who represent over 60 nations, are primarily asylum seekers who have experienced turbulent migration. Survivors and their family members are struggling not only with the profound impact of past torture and trauma, but also the unexpected, prolonged challenges of constructing a secure and promising life in the U.S.
The Kovler Center was one of the RFC's earliest applicants, contacting us for support in 1990, the year the RFC first opened its doors. They requested funds for a group grant for Guatemalan children whose parents were political activists. The families were fleeing for their lives following persecution and disappearances in their home country, and they found solidarity through support groups at Kovler. While the parents met for therapy, their children congregated in a nearby room where the youth group took shape. Sustained grant support from the RFC allowed the group to experience an array of mentorships which included Liga Maya Internacional, choreographers, psychodramatists, social workers, art and occupational therapists. Over the years the onsite gatherings transformed into Konojel Junam, which means "All Together" in K'iche'. They became an anticipated youth presence in the community, weaving their cultural identities and voices through varied artistic mediums, with justice at the forefront. The group was sustained by RFC funds for over 10 years until the youth aged into adulthood; many former participants are now working in social justice and health care fields.
In the spirit of Konojel Junam, RFC-supported youth groups continue at Kovler. Group members now represent the Central African Republic, Guatemala, Rwanda and Congo. Throughout the pandemic, Kovler adapted the groups to a hybrid model with RFC grants funding home-based activities with arts and crafts kits, virtual educational outreach and hosting safe outdoor activities to ensure family connections. Community based activities have now resumed. The last year has included participating in the annual June 26 UN Day in Recognition of Survivors of Torture, experiencing the artist Nick Cave's empowering creations addressing trauma, racism and healing, and a recently launched virtual poetry composition group with Merna Hecht, a writer with a rich experience mentoring refugee youth.
Since the first RFC grant in 1990, the Kovler Center has continued to astound us with their dedication to children and families who have survived torture and forced migration. The partnership between RFC and Kovler over these many decades is a testament to the profound impact of sustained support and solidarity.
Image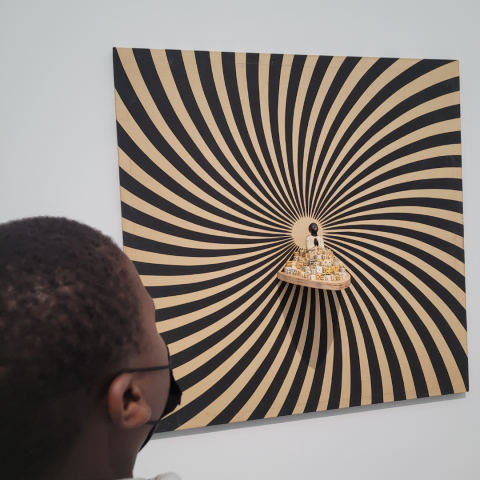 Young group participant engrossed at the MCA Nick Cave exhibition