Anniversaries, Milestones and the End of Roe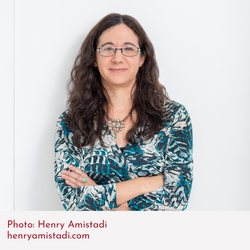 I've been thinking a lot about anniversaries and milestones recently. That's not surprising, given that the RFC recently wrapped up an 18-plus month celebration of our 30th anniversary (delayed and extended by the pandemic). This July also marked my 15th anniversary of working at the RFC, and I have a BIG birthday this fall (gulp, 50!). And next June 19th will be the 70th anniversary of my grandparents' executions.
While reflecting on the meaning of these milestones, the Supreme Court overturned Roe v. Wade, the landmark ruling that legalized abortion nationwide in 1973, a year after my birth. Not surprisingly, my sister and I grew up going to protests, often in strollers or carried on shoulders, with our parents and family friends. The earliest of those marches were pro-choice rallies or commemorations of the legalization of abortion.
My mother was a reproductive rights activist in the late 60s and early 70s and a counselor at the first clinic that opened in our city after Roe. I grew up hearing about her efforts to provide support and counsel for the women who came through the clinic doors and what it was like before Roe when a patchwork of state laws and prohibitions made abortion inaccessible for those without privilege or means.
She wrote about those experiences in an essay published in MS Magazine in the fall of 2019. I remember attending rallies as I grew older wearing my no coat hangers pin and pro-choice/pro-child t-shirt. Women my mother's age were often teary at those events and seemed especially grateful to see girls and young women in the crowd.
I thought about those days recently when three generations of women in my family (my mother, sister, niece and I) attended a local pro-choice rally after the draft opinion overturning Roe was leaked. My mom had found protest shirts she loved and ordered them for all of us, echoing earlier pins and shirts my sister and I wore as kids. We all put them on and stood together and chanted with hundreds of other members of our community. And still, Roe was overturned in late June.
It's hard to be hopeful sometimes. To stave off pessimism, I think of my mom and her peers and the strong, difficult, important work they did to make almost five decades of access to abortion a legal right. And the many folks continuing that fight today, a number of them RFC beneficiary parents doing hard, dangerous work despite the numerous obstacles they face.
I'll be 50 when we mark the 70th anniversary of my grandparents' executions next year, more than a decade older than either Ethel or Julius at their death. I'll be in my 16th year of working at the RFC, the first five of which I spent as the granting coordinator working with our beneficiary parents. If my time here has taught me anything it's to respect the persistence and resilience of generations of activists. Everyone at the RFC is committed to standing with them as they fight this and so many other battles.
These milestones matter. I'll mark my 15th anniversary at the RFC and celebrate my big birthday. And we've already begun brainstorming about how to mark the 70th anniversary of the executions. If you have ideas of what might be meaningful, please be in touch (info@rfc.org). I hope together we can honor the past and continue the fight for a better future.