Mission, Vision & Guiding Principles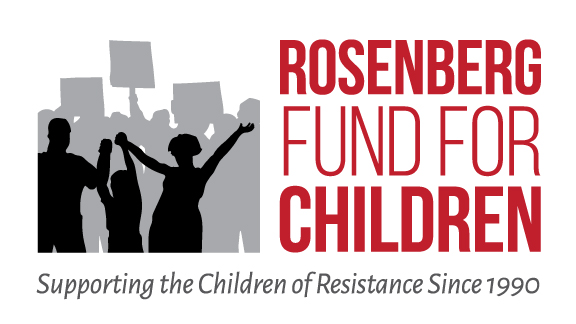 Mission Statement
The Rosenberg Fund for Children was established to provide for the educational and emotional needs of children whose parents have suffered because of their progressive activities and who, therefore, are no longer able to provide fully for their children. The RFC also provides grants for the educational and emotional needs of targeted activist youth. Professionals and institutions will be awarded grants to provide services to beneficiaries.
Vision
The Rosenberg Fund for Children envisions a world where no child suffers alone when their family faces repression. Instead, we seek to create community between our staff, Board, beneficiary families, consultants, donors, funders, supporters, ally organizations and the broader progressive community. Board and staff draw upon their experience, commitment and expertise to support children of targeted progressive activists and targeted activist youth in a way that serves these individuals' needs and empowers and fulfills our beneficiaries, Board and staff.
We seek to demonstrate to the activist families we support that a broad progressive community stands with them while simultaneously connecting our donors with contemporary activist movements. By raising the funds necessary to meet requests for our support from thousands of progressive donors, most of modest means, and bringing together staff, beneficiaries, Board and providers through our Gathering programs, we build community and counteract the isolation that increases activist families' vulnerability. At the same time, we prioritize protecting our beneficiaries' privacy and allowing them to be "just kids." Thus the RFC usually does not publicly identify its beneficiaries and we do not have "poster children."
 
We want our application procedures and guidelines to meet the needs of activist families, rather than serve as hurdles that potential beneficiaries must surmount. The RFC Board believes that it holds the funds we have raised in trust for activist families' benefit and applies our guidelines expansively rather than mechanically.
Our guiding principles are:
All people have equal worth. We actively oppose white supremacy, racism, homophobia, misogyny and all other forms of oppression by supporting people and organizations dedicated to eradicating them.
World peace is a necessity
People are more important than profits
Society must function within ecologically sustainable limits
Definitions
The RFC defines "targeted" as someone who as a result of his or her activism, has:
lost a job
suffered physical or mental injury or disability
been harassed or discriminated against
been imprisoned
or died
The RFC defines "progressive activities" as those taken to further any of our guiding principles.