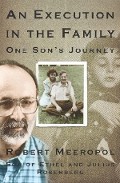 AN EXECUTION IN THE FAMILY: One Son's Journey
"Inspirational . . . moving . . . engaging . . . should be required reading." - Michael Moore
"Robert Meeropol reveals a soul-wrenching journey of personal courage and political discovery. AN EXECUTION IN THE FAMILY is a disturbing reminder of how, in the name of national security, our preciously guarded constitutional guarantees can be easily trampled. It's a deeply moving account, with painfully personal insights, into one of the most controversial cases in American history—and we must never forget." - Danny Glover
---
Robert Meeropol was six years old when his parents, Ethel and Julius Rosenberg, were put to death. AN EXECUTION IN THE FAMILY: One Son's Journey details his political and personal odyssey from Rosenberg son to political activist. His story speaks of the collateral consequences of the death penalty and of the price children sometimes pay for their parents' politics, as it candidly details Robert's struggle to deal with his evolving views of his parents' case.
AN EXECUTION IN THE FAMILY charts the course of one man's life as he comes to terms with the death of his parents due to the destructive reach of a political witch-hunt. The memoir chronicles his struggle with the profound personal effects of the decision to go from leading a life in hiding, to revealing that secret and becoming a public figure open to scrutiny.
Attorney, activist and Rosenberg son Robert Meeropol speaks from a uniquely qualified position when he suggests how the nation should respond to the challenges it currently faces. "It took me almost forty years to figure out how to overcome my fear, harness my anger and transform the destruction that was visited upon my family into something constructive. America today is confronted with a similar challenge."
AN EXECUTION IN THE FAMILY is available through the RFC office.  Signed hardcover copies are $10.00 each. Prices include tax and shipping.  (For books shipped outside the U.S., add $10.00 per copy.) To purchase, please mail a check or money order payable to the Rosenberg Fund for Children, to 116 Pleasant St., Suite 348, Easthampton, MA 01027. Please indicate that the payment is for a book purchase. Along with payment, please include the shipping address.
Click here to read a review of the book on the Prison Legal News website.