RFC Awards Record-Breaking $230,000+ in Grants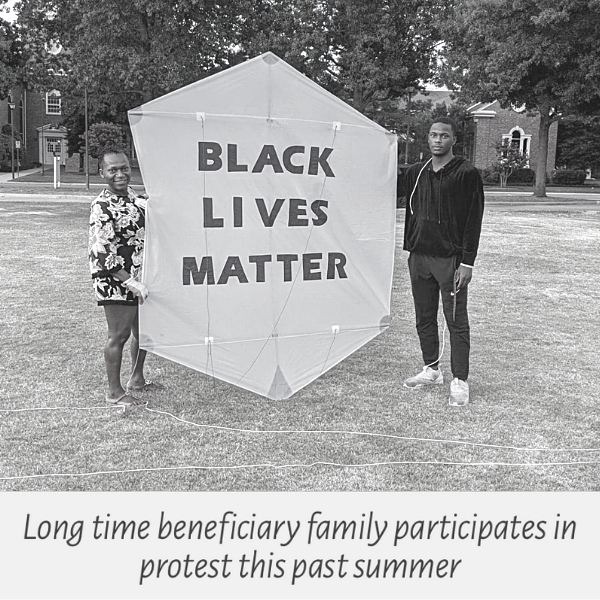 NEW GRANTS  
Immigrants' Rights Whistleblower Targeted $6000 for virtual learning supplies for three children, ages nine to 15, whose mother lost her job and faced threats for exposing flagrant disregard for health and safety as well as appalling medical malfeasance at her work. Location Withheld
Activist Tortured $6000 for educational supplies and an Attica grant[1]   for four children, ages six to 13, whose family fled the U.S. to escape the FBI's harassment of their father for his outspoken opposition to U.S. foreign policy in the Middle East. He was arrested and tortured before being extradited back to the U.S., forcing the family to relocate once again. GA
Dad Fired for Participating in Protest $4000 for childcare and a computer for the children, ages two and 11, whose father has faced harassment due to his involvement in various social justice movements and was fired from his job for participating in a BLM protest. CA
Mother Fired for Advocating for Anti-Racist Workplace $3000 for recreational activities for two children, ages eight and 12, whose mom was fired after she advocated for an anti-racist framework at her job. She was subsequently harassed, and her home was threatened, forcing the family to move. NC
Young Civil Rights Activist Targeted $2000 for mental health support for the 16-year-old Targeted Activist Youth (TAY) who was bullied due to her leadership in the Black Lives Matter movement. Location Withheld
Family's Home Set on Fire $2000 for self-defense classes and a home security system for the 18-year-old son whose mother's leadership in the Black Lives Matter movement led to numerous violent acts of intimidation. OK
Journalist Stabbed $1880 for educational support for the six-year-old daughter whose father, a journalist, was attacked while covering a neo-Nazi rally. He was arrested and had his memory card confiscated while his attacker was never charged. CA
Police Target Mother $1700 for mental health services for the 13-year-old daughter whose mother fought to reallocate funding from the police to mental health services. As a result, she was harassed online by local police officers and someone fired a gun in her driveway in the middle of the night. TX
Professor Blacklisted for Activism A $600 Carry it Forward (CIF) award[2]   for the 18-year-old son whose father was threatened with termination due to his academic activism on campus, resulting in his forced resignation and subsequent blacklisting, which prevents him from teaching in the region. FL
CIVIL LIBERTIES
Organizer Serving 28 Years $4600 for sports equipment, a CIF award and an Attica grant for two daughters, ages 18 and 22, whose father was a leader of an organization committed to Black and Brown unity, and human and civil rights. He was convicted of racketeering and sentenced to decades in prison despite maintaining his innocence. NC  
Activist Moms Forced out of Work $4500 for school tuition and tutoring for three children, ages 15 to 17, from two families whose mothers were both fired after advocating for equality and inclusion for their students. GA, MI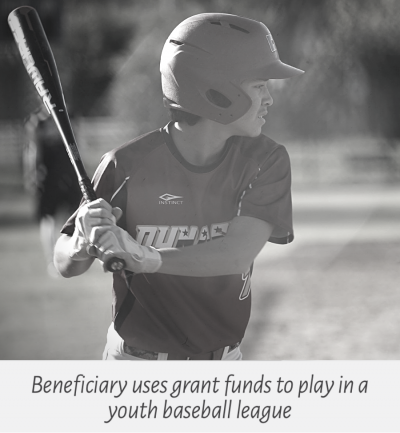 Father's Career Sabotaged $2600 for sports activities and a CIF award for the 13 and 21-year-old sons whose father, an independent journalist, was fired and blacklisted for expressing progressive views and covering controversial topics.  MN
Mom Harassed $2200 for gymnastics, a tablet and a CIF award for two siblings, ages four and 18, whose mom chose to go public about being stopped by a Customs and Border Patrol agent because she was speaking Spanish. She took legal action and had to move to escape the subsequent harassment. Location withheld
ENVIRONMENTAL & ANIMAL RIGHTS
Parents Fight to Protect Environment $18,860 for a broad range of programs for 14 children, ages five to 18, from five families.  Some parents/guardians were beaten and arrested while marching against environmental racism; others were attacked and/or imprisoned for their community organizing work. AL, CA, FL, GA
Pipeline Protestors Targeted $8600 for recreational activities, a computer, educational support and a CIF award for nine children, ages nine to 18, from three families whose parents were threatened and faced charges for fighting against the construction of pipelines. LA, NM, WI
Environmental Lawyer Survives Assassination Attempt $2095 for a music program, tutoring and a CIF award for two kids, ages 15 and 19, whose father lives in exile in the U.S. He faced threats to his life for his advocacy work in his home country for rural communities' right to control natural resources autonomously. MA
Father Falsely Accused $2000 for educational support and recreational activities for the 14-year-old son whose father spent decades litigating against a large oil company and achieved a historic victory. As a result, the company has relentlessly targeted him, resulting in significant financial loss and possible jail time. NY
Environmental Activists & Children Threatened $2000 for physical therapy for the 11-year-old son diagnosed with a sensory processing disorder whose father and older brother have been harassed and faced death threats as a result of their work to protect the local water basin. The family dog was poisoned because of the parents' work monitoring and confronting illegal pollution and development activities. LA  
Animal Rights Activist Incarcerated $1500 for music classes and counseling for the 18-year-old daughter whose father was jailed for destroying traps set for mountain lions and now advocates for wolves. AZ  
GENDER EQUALITY, LGBTQ & REPRODUCTIVE RIGHTS
Mother Threatened with Loss of Son $2100 for equine therapy and a CIF award for the 12 and 21-year-old children whose mother, an LGBTQ rights activist, was threatened by the state with the removal of one of her children because of her organizing. OR
Mom Fights to End Torture $2000 for volleyball programs for the 16-year-old daughter whose mother provided advocacy and assistance to women whose rights had been violated in their home country. She was detained and arrested before seeking refuge in the U.S. IL
HUMAN RIGHTS
Families Forced to Flee $7700 for childcare, educational support and a CIF award for the six children, ages four to 21, from four families whose parents were forced to flee their home countries after being harassed, assaulted and jailed because of their pro-democracy efforts. IL, MA, NY
Father Forced to Leave Country $4000 for school tuition for two children, ages eight and 13, whose dad established an interfaith mosque to counteract society's negative bias towards Muslims in the post-9/11 era. He faced harassment and detention by the FBI and local law enforcement and chose to leave the U.S. to end the persecution. NY
Mom Fights for Indigenous Rights $4000 for virtual learning supplies for the two siblings, ages five and six, whose mom was repeatedly stalked and threatened for her efforts to change Columbus Day to Indigenous People's Day. NM  
Indigenous Family Suffers Retaliation $1600 for orthodontia for the 13-year-old girl whose grandmother (her guardian) fought to hold her tribal leader accountable for human rights violations. As a result, she was denied employment and health insurance from her Nation, causing significant hardship. NY
IMMIGRANTS' RIGHTS
Father Deported $4000 for French classes, a computer and school supplies for two siblings, ages 13 and 17, whose father was detained and deported by ICE, despite his pending case, in an apparent act of retaliation for his years of leadership within the immigrants' rights movement. Location withheld
Dad Targeted While in Sanctuary $3275 for recreational activities and virtual learning support for three children, ages 11 to 18, whose father is an immigrants' rights leader. Since being denied a stay of deportation and entering sanctuary, DHS and ICE officials have escalated threats and pressure against him. Location withheld
Mom Faces Retaliation for Immigrants' Rights Advocacy $3000 for childcare and sports for the two sons, ages five and 12, whose mother became a vocal activist from sanctuary. The boys' father, previously unknown to ICE, was detained in probable retaliation for his wife's activism. Location withheld
Immigrant Parents Face Backlash $3000 for educational support for two children, ages 14 and 18, whose parents speak out and organize events in support of humane immigration policy despite having been forced into sanctuary. They are facing scrutiny and unusual treatment by ICE as a result. Location Withheld. UPDATE: After 864 days, the government dropped their deportation case at the end of December. The family looks forward to leaving sanctuary and celebrating their freedom!
LABOR & ECONOMIC JUSTICE
Father Disabled by Police Beating  $4800 for support services for three siblings, ages nine to 10, whose father, a whistleblower for worker and consumer safety, was laid off, harassed, then arrested and attacked by police. Despite multiple surgeries, he is incapacitated and partially paralyzed. MA
Moms Fired for Advocacy $4700 for school tuition and a sports program for three kids, ages eight to 12, from two families whose mothers were fired for organizing on the job. One fought for fair working practices and the other on behalf of students with special needs. GA, MS
Mother Organized After Katrina $2100 for educational support and a CIF award for the siblings, ages 14 and 18, whose mother helped lead a movement to assert public housing residents' rights to return home after the storm. In retaliation, she was harassed and jailed on false assault charges. LA
HERMAN WARSH MEMORIAL FUND* Union Leader Imprisoned $1500 for martial arts classes for the 16-year-old son whose father fought for workers' rights, co-founded an immigrant advocacy collective and spoke out against the Afghanistan and Iraq occupations.  He was arrested on politically motivated charges and has been in prison since 2012. FL (*More information about named funds is available here.)
Family Flees $1500 for a computer for the 17-year-old son whose mother was threatened with prison for trying to address the needs of low-income families.  TX
PEACE
Children and Parents Working Together for Peace $13,260 for music lessons, educational support and art supplies for 12 children, ages three to 18, from five families who are members of pacifist communities.  Parents and teenage children have engaged in peaceful anti-war protests and many of the parents have been imprisoned for civil disobedience.  ME, NY, NC, VA, WA
Support for Children of Torture Survivors $3500 for a group grant for outdoor activities for kids whose activist parents survived torture in their home countries. The program serves 12 children, ages five to 19, from six refugee families in which at least one parent was a targeted pro-democracy activist. IL
Father Fights to Stop Witch Hunts $2000 for sports programs for the 15-year-old daughter whose father, a member of a peace and international solidarity group, had his home raided and was threatened with arrest, but refuses to testify before a grand jury investigating anti-war activists. IL
Dad Charged for Protesting with his Children $2000 for educational supplies and a gym membership for the daughter, age 15, whose father was arrested at a peaceful demonstration and faced additional charges of contributing to the delinquency of a minor for bringing his children with him to the event. He began serving time in federal prison during the pandemic after being convicted for additional peaceful protests. NC
Adoptive Dad Thwarted by Felonies $2000 for sports expenses for the 13-year-old son whose father has been arrested upwards of 100 times for his direct actions related to peace and social justice. He has two felonies for actions he took more than 20 years ago; these convictions have kept him from being able to legally adopt his son.  DC    
Father and Son Separated $650 for a computer for the 14-year-old son whose soldier father refused deployment to Iraq, fled to Canada and became active in the Canadian anti-war movement. After being deported back to the U.S., he served 15 months in the brig and is unable to re-enter Canada to see his son. QC
PRISONERS' RIGHTS/U.S. POLITICAL PRISONERS
Sons of Political Prisoners Targeted $8000 for school tuition and an online coding program for five kids, ages nine to 16, from two families whose fathers are both children of political prisoners. Their activism on behalf of political prisoners' rights has resulted in police harassment and lost jobs. GA, PA
Mothers Threatened for Helping Prisoners $6800 for cultural programs and educational support for four children, ages seven to 18, from two families whose mothers were threatened for advocating for better programs and treatment of inmates. AL, NY
Former Political Prisoner Faces Harassment $3200 for school tuition for the 13-year-old twins whose father was incarcerated for anti-apartheid efforts and continues to face ongoing targeting for his work to free political prisoners.  MA
Dad Punished for Anti-Prison Art $2560 for a computer and educational materials for the eight and 12-year-old daughters whose incarcerated father advocates for prison abolition in his poetry and writing. His views have resulted in prolonged periods in solitary confinement, violent attacks, additional charges and denial of communication with his family.  CO
RACIAL JUSTICE
Fathers Targeted for Anti-Racist Activism $12,400 for tuition, tutoring, recreational activities and cultural programming for eight kids, ages nine to 15, from four families, whose dads faced repression for their racial justice organizing. Two lost jobs, one was arrested more than 40 times, others faced surveillance, arrest and harassment. CO, GA
Racial Justice Activists Attacked  $8800 for childcare, school tuition and school supplies for five children, ages four to 18, from three families whose parents received death threats and other threatening messages because of their advocacy for racial justice. GA, MD, OR
Moms Blacklisted $5540 for tutoring, athletic expenses and cultural programming for four children, ages nine to 18, from two families, whose mothers were both targeted for their anti-racist organizing in the workplace, fired without cause and have been prevented from working in their fields. GA, OK
Family Threatened by KKK $4420 for driver's education, orthodontia, and two CIF awards for 4 children, ages 16 to 22, whose activist mom received death threats from the Klan for her efforts to desegregate a public housing complex. OR 
CIF AWARDS $3600 for six CIF awards for textbooks and school supplies for six beneficiaries, ages 18 to 24, from five families. Their parents advocate for racial justice, prisoners' rights and human rights. CA, IL, GA, NM
GROCERY GIFT CARDS $27,300 to provide grocery gift cards for RFC beneficiary families.
The inaugural grant from the Harry Flemming Fund will help cover the costs of $350 grocery gift cards provided to beneficiary families in the fall of 2020. In late 2019, Harry Flemming's daughter and son-in-law established this fund in his memory to make it possible for children and grandchildren of prisoners to visit their incarcerated loved ones. With virtually all prison visits suspended due to the pandemic, the family graciously agreed to allow the fund to cover grocery gift cards to help provide this vital support to targeted activist families. Learn more about the Flemming Fund and other named funds here.
---
[1] Attica Fund Prison Visit grants enable the children and grandchildren of political prisoners to visit their jailed loved ones
[2] CIF awards of $600 are given to 18 to 24-year-olds to help pay for the costs associated with college or similar programs to help prepare them for adult life.