Creativity Makes Our Community Blossom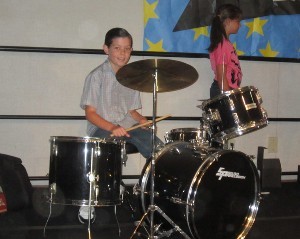 From the start, the RFC has nurtured and valued creativity. The Fund is Robert Meeropol's inventive approach to turning the negative in his life into a positive — what he calls his "constructive revenge." Awards enabling beneficiaries to participate in arts programs have been a core part of the RFC's work. This approach to meeting the education and emotional needs of grantees by funding their participation in creative arts and other expres­sive activities, reflects Robert's experience growing up and finding solace in the Meeropol household where his parents and many of their friends were writers, musicians, singers, and actors.
Arts and recreational programs can be a crucial part of the healing ­process for children dealing with the impact of a parent's targeting. Progressive service providers "carry forward and pass on" a commitment to a more just and peaceful society to future generations. And innovative approaches to organizing and movement building are essential to keeping those efforts vibrant. The stories below (all grantee's names are pseudonyms) illustrate various ways that our beneficiaries, providers, and supporters are demonstrating and supporting creativity.
"Serena" loved her RFC-funded art workshop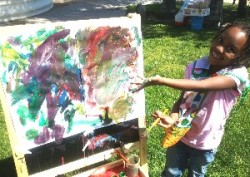 "Serena's" father was trying to prevent the building of a toxic waste dump in his low-income community when he was attacked by police and severely injured. However both he and Serena's mother remain active in community efforts including advocating for after-school programs and youth activities. RFC grants have sent Serena and her sister to a progressive school committed to providing a safe and nurturing environment for the children of activists, and this summer the girls are participating in an arts enrichment program, while taking language classes in preparation for an upcoming trip to Africa.
"Lara" is overcoming trauma with feminist-oriented self-defense classes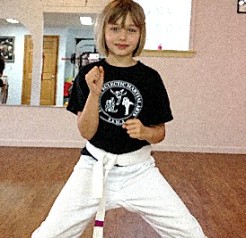 "Lara's" parents are facing arrest for refusing to testify before grand juries investigating peace activists, and she was just seven when the FBI raided their home. Lara is still traumatized. So her parents were thrilled when they discovered a nonprofit educational organization near their home that is "dedicated to the empowerment of all people through martial arts, wellness, personal safety and self defense training so we may have a more peaceful community and planet." RFC grants have allowed Lara to take lessons in a supportive and respectful environment with a deliberate feminist orientation and a focus on providing affirming classes for young girls and women.
RFC grants allow "Rayanna" to pursue her passion for music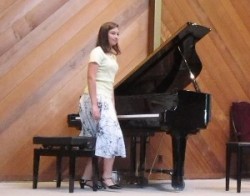 "Rayanna" wanted to take music lessons but it wasn't an easy addition to the family budget. Her parents' deep commitment to anti-war activism and dedication to ongoing protests at the military base near the family's home in California generated little money. For the past three years, RFC grants have allowed Rayanna to study piano at a school that believes strongly that music, "is a universal language…is the way we pass on our beloved songs to future generations…and involves family and community participation."
Cal is trying new ways to connect with others to support the RFC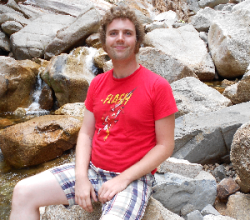 Cal is one of the RFC's newest supporters. He's a cab driver, Li­censed Massage Therapist, Certified Polarity Therapist, punk musician, and an active member of his local Buddhist community. He's been involved with various grassroots social justice organizations, including one which grew and distributed free organic produce while raising awareness of political prisoners in the U.S.
After he heard Robert & Jenn Meeropol speak at a benefit reception earlier this year, he decided to talk to acquaintances with whom he doesn't usually discuss politics, in an effort to get 20 more people he knows to support the RFC.
He wrote in explanation, "I knew this was an organization I wanted to contribute to and that it was also a way to get others engaged. Not only does it shed light on the seldom spoken topic of state repression, but there's a service provided to the children who are affected by this. That's the most effective kind of political work!"