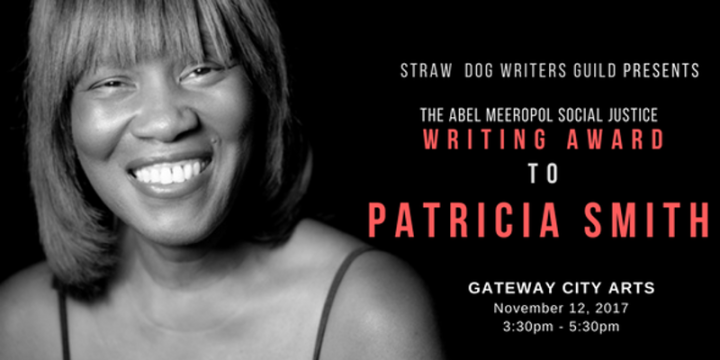 The RFC is a proud sponsor of the first-ever Abel Meeropol Social Justice Writing Award, which will be presented by Straw Dog Writers Guild to poet Patricia Smith on Sunday, November 12 at Gateway City Arts in Holyoke, Massachusetts. Guild co-founder and Board President Ellen Meeropol (also a member of the RFC's Advisory Board) shares the story behind the award.
I'd like to tell you the story of this award and why Straw Dog Writers Guild created it. Like most stories, it's hard to know where to begin, but let's start in 1935 when my father-in-law, Abel Meeropol, saw a newspaper article and photograph of a lynching. It haunted him and the poem he wrote about it, titled "Bitter Fruit," was published in a Teachers' Union magazine the next January. He set the poem to music, changed the name to "Strange Fruit," and it was performed around New York City over the next couple of years by Abel's wife Anne and others. In 1939, Abel sang it for Billie Holiday at Cafe Society in Greenwich Village. Billie started performing it and the rest is music history.
Despite being initially banned from the radio, "Strange Fruit" has been performed by dozens of singers and was named The Best Song of the Century by Time Magazine in 1999. More than 80 years after it was written, "Strange Fruit" continues to resonate, to move us and inspire us, and remind us of the enormous power of art and resistance.
Abel, a Jewish schoolteacher from the Bronx, was a poet, playwright, and composer. Under the pen name Lewis Allan, he also wrote the words for "The House I Live In," which won an Academy Award in 1945, and the libretto for the opera "The Good Soldier Schweik," based on the Czech anti-war novel by Jaroslav Hasek. Abel's plays, songs, and poems, many of which were collected into a chapbook, The Eye of the Storm, explore themes of racial and economic injustice, and war and peace. He and his wife Anne adopted the sons of Ethel and Julius Rosenberg, my husband Robby and his brother Michael.
Over the past few years, there has been increased interest in "Strange Fruit." In memory of Abel and his work to change the world through literature and the arts, our family has funded an award from the royalties. In honor of her work as a poet and activist, Straw Dog Writers Guild has selected Patricia Smith as the recipient of the 2017 Abel Meeropol Social Justice Writing Award.
Patricia Smith is the author of eight books of poetry, including Incendiary Art; Shoulda Been Jimi Savannah, winner of the Lenore Marshall Prize from the Academy of American Poets; Blood Dazzler, a National Book Award finalist; and Gotta Go, Gotta Flow, a collaboration with award-winning Chicago photographer Michael Abramson.
Ms. Smith is a Guggenheim Fellow, a National Endowment for the Arts grant recipient, a two-time winner of the Pushcart Prize, and a four-time individual champion of the National Poetry Slam, the most successful poet in the competition's history. She is a professor at the College of Staten Island and in the MFA program at Sierra Nevada College.
On November 12, 2017, at 3:30 pm at Gateway City Arts in Holyoke, MA, Ms. Smith will read from her work and discuss writing as resistance. Follow-up roundtable discussions will be held several weeks later, to continue the conversation about social justice issues in our communities and to explore ways the arts can connect us to each other. These programs are supported by the Northampton Arts Council.
I hope you will join my family in honoring Abel Meeropol and Patricia Smith on November 12. The program is free to the public, but tickets are required and can be obtained here.
Thank you,
Ellen Meeropol