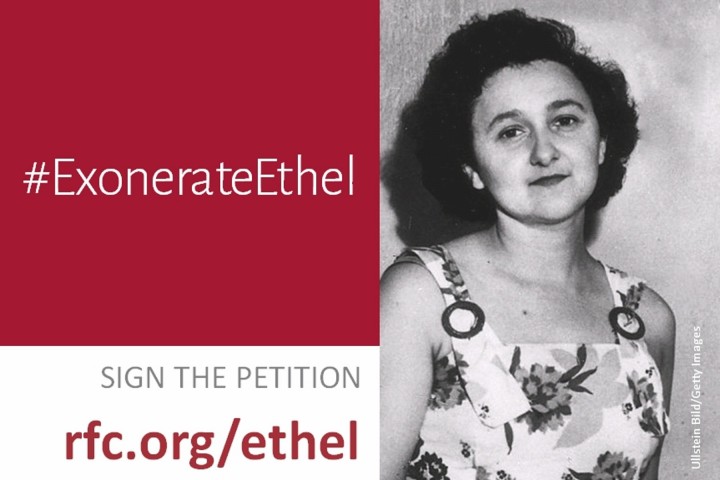 On Thursday, December 1st, my father and uncle will travel to the White House to make a public plea to President Obama to exonerate my grandmother, Ethel Rosenberg, and to deliver our petition with 40,000 signatures.
I'm proud that my Congressman, Jim McGovern (MA 2nd District), is supporting this effort, and is sending his own letter to the President this week urging him to act. My father and uncle have asked other legislators in their home states of Massachusetts and New York to join Congressman McGovern in backing this campaign and contacting the White House. My family was also very encouraged that The Boston Globe ran a stunning, full-page editorial on Thanksgiving Day, calling on President Obama to act.
Will you help, by calling these members of Congress and asking them to support the campaign to exonerate Ethel Rosenberg?
Here's a suggestion of what to say: "A huge body of evidence shows Ethel Rosenberg was not a spy and our government knew that but executed her anyway. Please join Congressman Jim McGovern and The Boston Globe, and issue a public statement supporting the petition to exonerate Ethel (found at www.rfc.org/ethel). I also urge you to contact President Obama to ask him to act on the request that Ethel's sons Robert and Michael Meeropol have submitted."
Senator Elizabeth Warren (MA): (617) 565-3170
Senator Ed Markey (MA): (202) 224-2742
Representative Richard Neal (MA, 1st District): (413) 785-0325
Momentum is growing and time is running out. Please help with this urgent request now, and leave a comment below to let meknow the response you get to your calls.