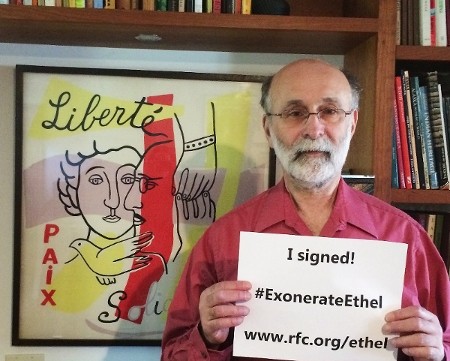 Guest blog  by Robert Meeropol, Rosenberg Fund for Children Founder & son of Ethel & Julius Rosenberg
It has been a year since the release of David Greenglass's grand jury testimony in which he denied my mother, Ethel Rosenberg's, involvement in espionage. This was the final element necessary for me to pursue a plan I'd thought about for decades.
As my brother and I began the effort to reopen our parents' case in 1973, I noticed that while almost everyone on both sides talked about "the Rosenbergs," the debate focused entirely on whether Julius was an atomic spy. I remember saying that Ethel was "disappeared" into Julius.
With the collapse of the Soviet Union at the end of the 1980's, information began to dribble out that raised the possibility that Julius was a spy. The release of the Venona transcriptions in 1995 added force to this possibility, but also provided powerful proof that Ethel never spied. The KGB gave all its operatives code names; Ethel had no code name.
Two events in 2008 strengthened my determination to focus more on my mother. The first was the release of Ruth Greenglass's grand jury statements that demonstrated Ruth lied at trial about Ethel's involvement. The second was my parents' co-defendant Morton Sobell's admission that he and Julius engaged in non-atomic, military-industrial espionage on behalf of the Soviet Union.
Ruth's testimony was released in 2008 because she'd died earlier that year. But we had to wait for David's death six years later, and endure another year of legal maneuvers to overcome his family's objections, before we gained access to David's testimony. Once we had that material in hand, we were able to demonstrate that neither David nor Ruth provided evidence against Ethel in their sworn grand jury testimony.
Armed with this final puzzle piece, last August my brother and I published an Op Ed in The New York Times which called on President Obama to exonerate Ethel. The enormous support we received in response, led the Rosenberg Fund for Children to launch the petition we plan to present to the President later this year.
Some supporters have expressed concern that by singling out Ethel, we've neglected the injustice done to my father. Exonerating my father is more complicated. Morton Sobell's 2008 admission, coupled with other evidence, prevents us from claiming his complete innocence. Still, he was executed for stealing the secret of the atomic bomb, a crime he did not commit, and the trial testimony necessary to convict him was false.
Julius grew up during the great depression on Manhattan's impoverished Lower East Side. He joined the Communist Party after witnessing its efforts to alleviate suffering in his neighborhood.  He saw the rise of fascism in Europe and admired the young men who volunteered to fight Franco's Nazi-supported army in Spain. When World War II erupted, he determined to help the Soviet Union defeat what he called "the Hitler beast."  Bad eyesight kept him out of the armed forces, so he organized several young scientists and engineers to share cutting edge military-industrial information with the USSR.
By 1950, when the government arrested Julius, Russia (our WWII ally) had become our enemy. In order to avoid confronting more powerful atomic scientists who had shared information with their Russian counterparts, Justice Department attorneys and FBI agents conspired to transform my passionately idealistic father, whose goal was to help the Soviet Union defend itself, into a master atomic spy. Next, they arrested Ethel, even though they knew she was not a spy, and involved the judge in their conspiracy. With Judge Kaufman's connivance, they used the death penalty to try to coerce my parents to confess to a crime they did not commit and to rat out the friends Julius had recruited.
Facing death, Julius and Ethel agreed that they would never bow to the government's demands or betray their comrades. Even though both believed that helping to defeat Hitler was essential, I suspect they thought Ethel was insulated from Julius' illegal activities.
I don't think they ever considered that Julius might face execution, or that the government would develop a diabolical plan to arrest and hold Ethel hostage with a death sentence. I believe what happened to Ethel was likely my father's greatest regret. That's why I'm certain that Julius would have given his wholehearted support to the Exonerate Ethel Campaign.