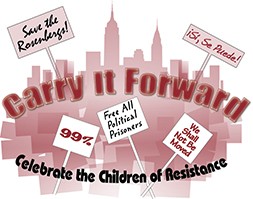 Since the turn of the year we've received an increasing number of inquiries about our program, Carry it Forward: Celebrate the Children of Resistance, to be held on June 16th, 2013 to commemorate the 60th anniversary of my parents' execution.  In March all of our supporters will receive our newsletter which will detail our plans.  In the meantime here's an update on how the event is progressing.
We've spent the fall developing the program's contents and recruiting the cast.  As those who have attended previous RFC events already know, we stage dramatic presentations interspersed with music and poetry.  Although there are still a few unfilled roles, most of the performers are already set.  Among others, Angela Davis, Eve Ensler, Martín Espada, Rebel Diaz, and Mike + Ruthy will join several Meeropol/Rosenberg family members on stage.
The costs of producing this sort of event in New York City are daunting.  This is especially so because we have rented New York City's Town Hall, will use union labor and will engage in the outreach necessary to attract a good audience.  It is an expensive undertaking even though our headliners will be donating their services and many involved in the production are giving us price breaks as a donation to our cause.
Over the last couple of months we've also secured underwriting aid to generate additional financial support for our project while holding ticket prices down.  We're still working on it, but we are pleased to report that our generous donors have carried us most of the way toward achieving our goals.
The RFC's spring newsletter will provide our community a chance to purchase the best tickets before we advertise the event more widely.  Anyone who is interested in getting on a waiting list before then to receive the very best seats available in each price category should email the office at info@rfc.org or call 413-529-0063.  There are a limited number of front and center "Anniversary Circle" orchestra tickets available for $300.  General ticket prices are $100 for Sponsors who will be listed in the program (front of the orchestra and loge), $50 (back of the orchestra), and $30 for the balcony.  Contact the office for information about reduced prices for low income individuals and activist youth. 
Town Hall has over 1400 seats, but we anticipate a full house so we encourage people to purchase tickets early.
On a more personal note…. This program will be my last as the RFC's Executive Director.  I hope that even many out-of-towners will consider joining us in New York City for my farewell event.  I'd like to have the opportunity to thank you personally for helping me realize my dream of building a foundation to honor my parents' resistance by supporting the children of targeted activists.

------------------
To receive a notification whenever there is a new post to Out on a Limb Together, subscribe now.
 
Comments
finding fathers "face" on crazy horse mountain, finding chief joseph [the younger] in my roots- w/ romanoffs- mulungeons-hugunots- married a mafia outshoot-[now divorced] trying to march w/ martin [but was P.G.] now an anti-fracker nas told me this--ONCE A HIPPIE ALWAYS A HIPPIE!
STAND FOR TRUTH OR YOU'LL FALL FOR ANYTHING->>[$$]+power-
So here we are- Me-[being afraid to let anyone know maternal-grampa had "russian roots- or other paternal-grandma had native american-"Indian" roots] so I kept my mouth shut!-- But not now! McCarthy and Keefauver put their "fear of .THEIR "god into the population- NOT ANY MORE- I been writting to Obama as "Family" because of my mulungeon roots!-Also writting a book called "Bands on the RUN" w/raymond redcliffe's "face" on the cover- jan_heaton@yahoo.com-
The Great Spiriy of Truth keeps us- Safe- Happy- healthy-
Add new comment