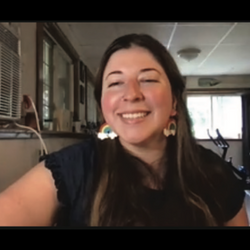 By Tori Montemurro
My two years at the Rosenberg Fund for Children as the Granting Coordinator have sadly come to an end, as I will be moving to Spain to teach English for the year. I am beyond grateful for this experience and for all of the people I have gotten to work with during my time at the RFC.
When I first started the role, I was a bit daunted by the number of activist families the RFC was supporting, many from activist communities I hadn't previously encountered. But I realized this job would give me the perfect opportunity to learn about a range of social movements and the people who were leading them - and I learned A LOT.
I first want to thank the staff and Board at the RFC for their support and direction, it has been a joy to work with you. I am also so grateful for all the beneficiary families who let me be a part of their lives for the past two years. I have learned so much from you all as activists, and as people, and I will miss you all more than I can put into words!
My time at the RFC has helped to shape me into the person I am today and I will always be grateful for the community that welcomed me, taught me and supported me in this role. While I am excited for this next adventure, I hope to remain involved with the RFC and the incredible community that surrounds it; but for now, I am turning the position over to the wonderful Cleo Rohn, and I cannot wait to see her excel in the role.
In Solidarity,
Tori