Last winter I read an article online in The American Prospect by Marcia Brown and David Dayen about a pilot program eliminating mail in federal prisons. The headline, "Physical Mail Could Be Eliminated at Federal Prisons" grabbed my attention as did the information which followed: "A company called Smart Communications has an exclusive pilot program with the federal Bureau of Prisons (BOP) called MailGuard, which eliminates nonlegal physical mail in federal prison facilities and transfers it to either crude paper printouts or electronic files accessed through tablets or kiosks."*
I couldn't get the story out of head but wasn't sure why it stuck with me until I came across a photo of myself at the Fall 2014 opening of the exhibit of my grandparents' prison correspondence at Boston University's Howard Gotlieb Archival Research Center. The event offered attendees a preview of the exhibit, which includes hundreds of letters Ethel and Julius wrote to each other, their attorney, my father and uncle, and other family members from their arrests in 1950 until just before their executions in June 1953.
I viewed the exhibit privately with my family just before the opening. It was a moving and unusual experience to be in a room surrounded by physical objects connected to my grandparents and to my dad's early childhood. It took me a moment to figure out my unexpectedly emotional reaction to the exhibit: despite working at the RFC, it's rare that I come in contact with items from Ethel and Julius rather than about them.
My grandparents' words matter; but I think the tangible nature of the letters also played a role in bringing comfort to my dad and uncle. As children during their parents' incarceration, letters were their only connection to their parents, except for a few prison visits. And I have no doubt that my grandparents took comfort from being able to write to each other in Sing Sing and hold tangible expressions of love and support from their loved one while stuck in prison cells away from each other and their children.
Today, far too many spouses, parents and children with loved ones in prison struggle to maintain these vital bonds with their kin. To put one more barrier between a child and his mom or dad; to substitute a transcribed birthday message or reminder about homework or praise or poem or expression of love seems needlessly cruel and punitive.
Boston University entitled the collection of my grandparents' letters "Love – Conscience – Conviction: The Rosenberg Case" and that's what I saw and felt at the opening. Their love, their conscience, and their conviction were on display and available for review and reflection by current and future generations.
I hope the pilot program fails and real, physical letters continue to be an option to connect those behind bars with their loved ones on the outside and create a record of that loss and love and separation that is as vital to those families as my grandparents' letters are to mine.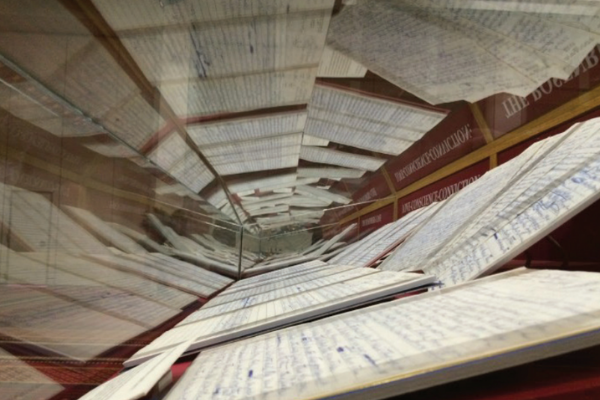 Banner photo credit: Henry Amistadi (henryamistadi.com)
Letters photo caption: Ethel & Julius Rosenberg's letters on exhibit at Boston University's Howard Gotlieb Archival Research Center