(Part 1 of the The RFC at 25 and Ethel Rosenberg at 100 series)
What was the cultural context of Ethel's trial and execution? The era of the 1950's was captivated by the idea of the housewife in her kitchen. This image was used to sell a multitude of products, to remind women of their proper place, and to reassure the war-weary populace that everything was back to normal and "cooking" again.
It's an image that has particular resonance in my grandparents' case. Ethel gave a press conference from her kitchen in 1950 following her husband's arrest for conspiracy to commit espionage. A popular photo of Ethel from that  press conference is captured in "Unknown Secrets (The Secret of the Rosenbergs)" the collage below by Martha Rosler, created in 1988, which I think provides a useful overview of many of the cultural and political forces which influenced my grandparents' case.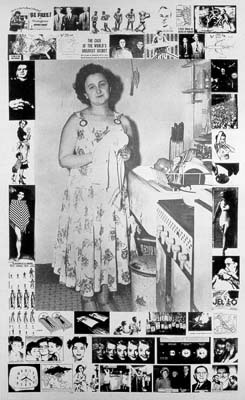 In the central image of this collage, Ethel stands in her kitchen, "shmata" or house dress clad, towel in hand, doing the dishes. Facing forward she looks at the camera and into the eyes of the American public. Around her are the tools of the American housewife: stove, dishes, sink, and towels. A normal image, a comfortingly familiar sight….a Communist threat?
How did this image and Ethel's attempt to defend her husband fail so profoundly? And what do the answers mean for our understanding of this case and the RFC's work with families facing similar challenges in a different time?
By standing in her kitchen, talking to reporters and proclaiming her husband's innocence after his arrest, I believe Ethel meant to convince readers that she was an ordinary woman, with a normal husband, who had somehow been caught up in a government mistake. This strategy was echoed several years later by defense attorney, Emmanuel Bloch, who during the trial, referred to Ethel as, "a housewife and nothing else" and insisted that the jury, "send her back to her home and her children where she belongs," (Trial Transcript, page 190).
I admit I winced at the language employed by her attorney, but Ethel's attempt to cloak herself in the protection, limited as it might have been, of wife and mother, made sense given both the minimal options available to her and the cultural realities of her time. Unfortunately for her, the representational power of her apron and house dress paled in comparison to the forces aligned against her.
Ethel and her attorney hoped that focusing on her identity as a young wife and mother might win sympathy. However, the dominant socio-political narrative of the time may have instead led people to feel that those aspects of Ethel's identity made her alleged actions even more nefarious and deserving of harsh punishment than those of her husband.
In the early 1950s, the cultural subtext decreed that women should not be leaders in any realm, including at home where husbands should be firmly in charge. So the notion of a young wife not just leading her husband, but leading him into treachery of the highest order (as the government contended Ethel had done) was potent ammunition in vilifying her.
In a letter to his son explaining why he was declining clemency for Ethel, President Eisenhower implied his condemnation of her failure to stay within the bounds of acceptable female behavior. He justified his lack of mercy by writing, "the woman was the leader in everything they did." Richard Nixon took this mindset a step further by linking the subverting of social roles, with dangerous political subversion, when he noted, "in the case of Communist couples…the wife is often more extremist than her husband."
How do you think gender impacted my grandmother's case? I encourage you to share your thoughts by leaving a comment below. And look for the second blog in this series, which will focus on the fear of communist infiltration of the home.
*Martha Rosler's collage was part of the Rosenberg Era Art Project, a collection of art about the Rosenbergs and the 1950s, which resulted in a book and film.
-------------
To receive a notification whenever there is a new post to this blog, subscribe now.
Comments
The contradictory nature of this image is the point of this blog essay. What did she mean by posing in an apron washing dishes? What does it say about women's roles then and now? The comments by Eisenhower and Nixon also illuminates the fascination of 1950s film noir with the femme fatale. The women defying the gender norm to fatal effect for her and the innocent entrapped male.
submitted by Andrew Phillips