Who are the children of resistance receiving support from the RFC today? They're preschoolers crying at night, separated from their immigrant parents. They're youth protesting the people and policies responsible for those separations, and denouncing a host of other injustices, from racism and police brutality to gun violence and the school to prison pipeline.
They're kids living with the fallout from parents speaking up for the rights of workers and prisoners, and being harassed, fired, or blacklisted. They're children from families on the front lines of the urgent struggles for peace, human rights, economic and social justice, the environment, and other progressive concerns that scream at us from our newsfeeds, headlines and inboxes.
From our vantage point at the RFC, we see widespread and intense resistance to the immoral agendas and oppressive systems that are wreaking havoc on vulnerable populations. We also hear about intense repression visited on activists working to interrupt and dismantle those powerful forces. Often the most distressing of these cases are ones involving families with children.
The RFC's work nurturing kids who've been collateral damage in these attacks on their activist parents – or who themselves have been the targets because they're lifting their own voices in protest – has never felt more urgent, more needed or more valued by those receiving our aid, including:
A young organizer, who since he was 13, has been working in his community to create youth-centered resources including employment opportunities; combat the school to prison pipeline; and advocate for communities of color. As his profile as an effective organizer has grown, so has his surveillance and harassment by law enforcement, to the point where he and his co-organizers are pursuing legal action against the local police department over abuses directed at them.

An RFC grant enabled this youth to participate in a conference geared towards teaching people of color and poor people about policies, practices, and platforms to engage in digital organizing safely.
 
Kids from several families around the country in which one or both parents has been deported or forced into sanctuary after being targeted by ICE as a result of raising their voices to assert that no human being is illegal.

Our grants can't soothe the pain of their separations, but they've provided the funds needed for these children to enroll in safe daycare programs; attend soccer, basketball and other summer camps and take swim lessons; participate in theater programs and educational enrichment courses; and purchase computers and tablets needed for school.
 
A teenager whose mother organized for the rights of healthcare workers experiencing on-the-job racism coming from medical institutions and patients, and was eventually fired and blacklisted as a result. RFC grants have funded several support services for this girl, including her participation in high school sports.
At the RFC, we feel the weight of bleak days and the constant onslaught of challenges to our progressive communities and ideals. But we also see glimpses of the society that demonstrators are envisioning when they chant, "un otro mundo es posible/another word is possible."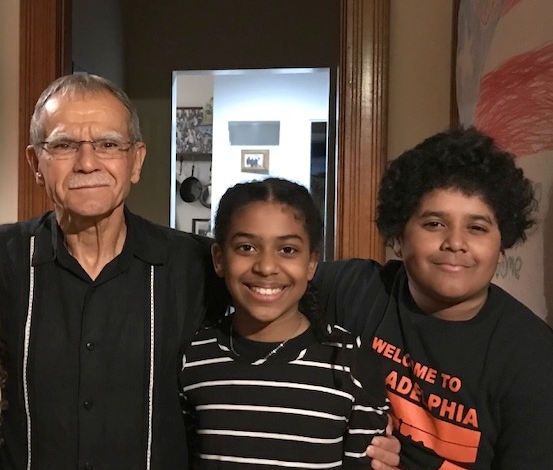 We've celebrated when relentless campaigns for freedom and justice have led to the release of several long-term political prisoners whose children and grandchildren we've supported for decades (including Oscar López Rivera pictured here with another former political prisoner's kids).

We've been buoyed by communications from our grant recipients, like this note that came from our liaison to one of the families whose kids received first-time grants this spring:
"I am so overwhelmed with gratitude for the care this Foundation shows children who are fighting to keep their hope and grounding and right to be on this earth alive at the same time their parents cannot be as present to them as they would like to be because they are fighting for their lives."
And every day we take heart from the energy of young people who are stepping into the shoes of earlier generations, and speaking up for the transformed world they want to see, as well as those who simply remind us of the immense value for kids of being able to participate in the everyday, joyful activities of childhood. All of these outlets and opportunities for the children of resistance are victories for the broader RFC community, too.