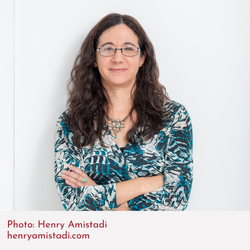 I've spent a lot of time the last few months planning for the commemoration of the 70th anniversary of my grandparents' executions. From initial brainstorming with the RFC staff and Board about what themes/issues we wanted to highlight to conversations about the format and timing and focus of the events to more recent efforts to draft and then finalize a script and film participants, it's been an enormous amount of work.
Fortunately, it has also been deeply satisfying and often inspiring. So much of that is due to our amazing beneficiary and donor community. I've been enormously moved by the generous response of the beneficiary families whose stories are part of the film that serves as the centerpiece of our virtual events (on June 14th and June 25th, see www.rfc.org/70th for additional info). When contacted to see if they were comfortable with us sharing their stories, every one of them said yes, often after thanking us for including them in this project, and many asked if they could tell their own story on camera. When we recorded these stories, I was struck by the power of individuals sharing their experiences; it was often emotional and at times difficult but always inspirational. In some ways, it reminded me of the powerful experiences of our Gatherings, where we saw the impact of bringing together people from very different backgrounds and experiences and finding shared commonalities that led to deep, meaningful connections.
It was also an opportunity for me to engage personally, both with beneficiaries I'd never met but felt I knew in some way through reading their application materials and a few folks who I've known for years and relished the chance to reconnect with. When beneficiaries chose not to appear on camera due to security concerns or personal preference, activist friends of the RFC stepped in to read their stories. In these moments, I was also reminded of how many amazing individuals and organizations are part of our larger community and how I value the opportunity to connect with them, share stories and learn with and from each other.
Stories were also a source of connection with many of the supporters who shared their memories of June 19, 1953 as they connected with us around the 70th anniversary event. I asked for permission to share a few memories folks send to me, including:
"I was ten years old when Ethel and Julius were executed. I have a vivid memory of the sun setting that evening, it was a red ball of fire in my memory of 60 years."

"I never mentioned it to [Robert Meeropol, RFC Founder], but I have a memory from that month in 1953, not sure if it was the very day. We lived in Buenos Aires, and there was a demonstration against the execution in front of the U.S. Embassy. My aunt got a heavy dose of tear gas. She lived with us and came home coughing, with her eyes red. It made a huge impression on me."

"Dear Comrades, we are in Poland c. Wroclaw the Friends and Comrades of Your Rosenberg Fund for Children and we are with You in the time of the 70 anniversary of the execution of Julius and Ethel Rosenberg. We have in our memory the historical persons of Julius and Ethel as the heroes not only of the USA but also of the all progressive world. [Their] memory is eternal. We send to You many good wishes and best greetings for Your noble activity and work for Rosenberg Fund of Children."
I think these moments while planning the 70th were especially meaningful since that sense of connection has been one of the many casualties of the isolation of the past few years. I found myself soaking up the high from feeling reconnected to so many folks doing hard, important work under really challenging circumstances. It also reinforced my desire to continue to explore safe ways to engage with our beneficiary and donor communities however we can, both now and in the future.
My commitment to furthering RFC connections solidified after two recent experiences with beneficiary stories in connection with our 70th event: the first was someone who received RFC grants as a child and who I knew from previous RFC events and Gatherings. It made me teary to receive the footage she sent us of her telling her story; now an accomplished adult with a family of her own, she simultaneously acknowledged the trauma she and her family experienced during her childhood and the importance of the community that supported them. The second was when we were filming a much newer member of the RFC grantee community. After sharing their painful recent experiences, which clearly was an emotional, difficult thing to do, they took the time to share their deep appreciation for the support the RFC had provided their young family and the impact it had on their commitment to continuing to do the work.
As we look to the virtual events to mark the 70th anniversary, now just about a month away, I am so grateful for the connections this project has made possible. I hope you all can join us on June 14th or June 25th to hopefully experience that sense of connection and community with us.