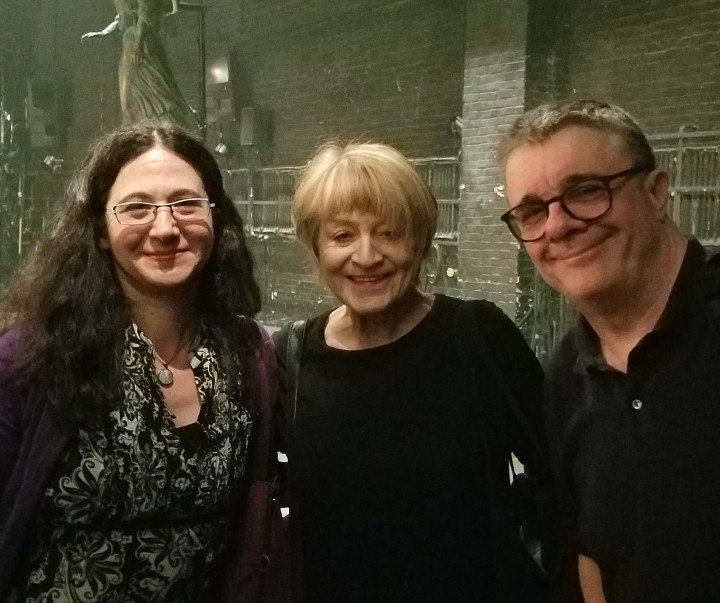 Last week Angels in America closed after a triumphant, award-winning revival on Broadway, more than a quarter century after it first took the theater world by storm. During Angels' first Broadway run, I was in college and deliberately avoided the press or any discussion about the play. I was writing my thesis, which explored the frames of meaning—historical, legal, cultural, etc.—in my  grandparents' case with a focus on how they impacted the representation and understanding of my grandmother. While it would have made sense for me to read the play or see it performed, especially since Ethel Rosenberg has a prominent role, something kept me from doing so.
Part of my reluctance had to do with how immersed I already was in the case from writing my thesis. I read the 1000+ page trial transcript along with my dad and uncle's book, We Are Your Sons, and my grandparents' prison correspondence. I also interviewed numerous people with first hand connections to my grandparents, including Ethel's therapist and one of the founders of the committee to save them. But all of that felt somehow less immediate than seeing an actress play my grandmother on stage.
In addition, I've always been especially affected by visuals. I can tolerate (and often enjoy) scary, disturbing novels but I'm incredibly squeamish about TV shows and movies. My parents still joke about the time they took me to see Puff the Magic Dragon as a child and we had to leave in the middle of the show because I was a sobbing, terrified mess wailing about the scary "big lizard."
Looking back, I think I was already living enough in the case to not want additional images in my head. Maybe that's why I didn't watch the movie version of Angels in 2003. I didn't have HBO but I could have found a way to see it if I wanted to, and I'm a big fan of Meryl Streep, Mary Louis Parker and other cast members.
I might have missed this Broadway run of Angels in America as well if my co-workers hadn't encouraged me to see it. The combination of the glowing reviews, wide-spread publicity, the RFC's ongoing "Artists as Activists" programming and their own interest in seeing the play, led them to suggest that we take an office field trip to view it.
I'm so glad we made the effort. I was apprehensive about seeing Angels for the first time in a crowded public theater. I really don't like crying in front of strangers and I thought there was a good chance I would be emotionally overwhelmed by the experience. I was moved to tears by several sections of the play, especially the scene where Susan Brown, the wonderful actress who played Ethel, sang the mourner's Kaddish (the Hebrew prayer for the dead) over Roy Cohn in an act of mercy. But I don't think I was any more overcome by the play than anyone else experiencing Tony's Kushner remarkable, eight hour epic that day.
What I hadn't anticipated was what a gift it would be to see my grandmother brought to life on a stage as she might have appeared if she had lived past her late 30s. I realized that while I've read a lot of fiction and nonfiction about the case and seen actors read Ethel's letters, I've never seen a live portrayal of her in full costume.
To see a living version of an older, more "grandmotherly" Ethel was emotionally powerful. And, thanks to the generosity of the cast and the production staff, I was able to go back stage after the performance and meet several cast members including Susan Brown and Nathan Lane, who expertly portrayed the despicable Roy Cohn. After more than eight emotionally draining hours of theater, I felt tongue-tied and barely coherent, but everyone was gracious and welcoming. It was an amazing experience and a perfect example of the power of activist art.
Comments
Sandra, I identify with much that you said in your note, and appreciate your comments.
Thank you for your blog, Jennifer,
Thank you, clearly your daughter & I are on the same wave-length. My mom corrected me that it was actually Pete's Dragon that I left in tears; I'm sure I would have found Puff the Magic Dragon terrifying too :).
And thank you to everyone for the lovely comments and feedback on this blog, I really appreciate them all.